June 1, 2022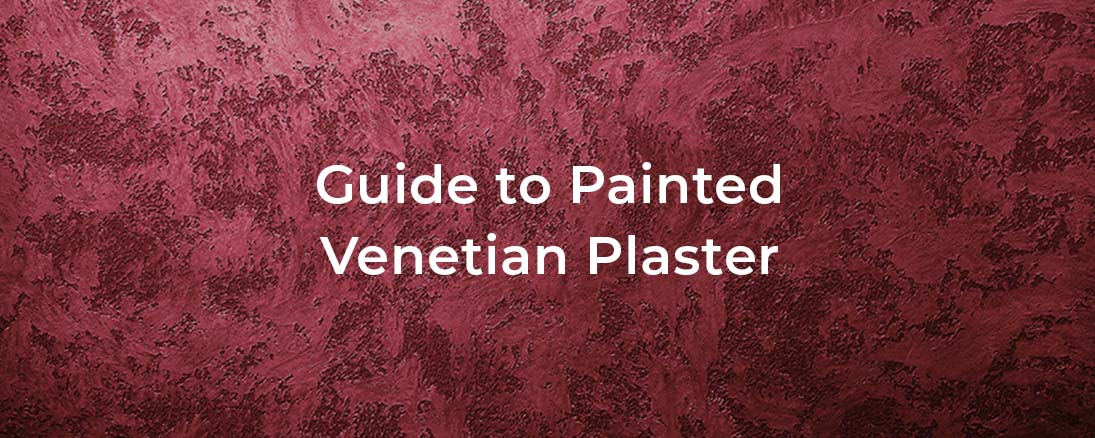 Venetian plaster is one of the best products to use on your walls. People have been designing with Venetian plaster for centuries, using its many advantages to light up their homes and improve their property's overall appearance. Still, there is a lot many don't know about Venetian plaster.
It's important to understand the essentials — what Venetian plaster is, how it works, its benefits and more. Knowing these basics lets you understand why it's been so popular and help you choose the right coating for your walls.
What Is Venetian Plaster?
Venetian plaster is a type of putty made by combining water with fired limestone. This mixture creates lime plaster — the same thing as Venetian plaster — which is applied to walls. Once the mixture is applied and carbon dioxide gets to it, it turns back into limestone. The final product is an elegant, long-lasting appearance that works with a variety of interiors and colors.
Venetian plaster likely originated in the Roman Empire — it was a great way to mimic the look of natural stone without having to move great boulders. For that reason, many see Venetian plaster paint as an old-world product, retaining that sense of the ancient. It's since been reborn as a modern product, showing up in many new homes today. Specific types, such as stucco Venetian plaster, are also available.
While many people may want to try to apply Venetian plaster themselves, it's best left to a professional service like Shoreline Painting that ensures a quality, thorough job.
Can Professionals Paint Over Venetian Plaster?
It's possible to paint over Venetian plaster — however, it is involved and complicated, so it's best to enlist our help to take care of the job.
Venetian plaster walls are elegant and long-lasting, but sometimes you may want to change your home's interior aesthetic. You may want to cover those Venetian plaster walls with something completely different, and that's OK — Shoreline Painting is ready to help you with whatever you need.
Benefits of Venetian Plaster
There are many reasons why people continue to use Venetian plaster today — even thousands of years after it was first created. Its attractive finished appearance, long-lasting qualities, and impressive durability are just some of the advantages of using Venetian plaster on your walls.
Longevity
Venetian plaster is made of fired limestone and water — this creates a finished product that is incredibly long-lasting. It can stand for years without issue, giving you all the benefits of an elegant coating without constant maintenance and attention. Venetian plaster is an excellent option for those who want to rely on a product that stands the test of time.
Durability
Because it hardens back to limestone as it dries, Venetian plaster is a very durable coating, capable of withstanding impacts and movements without trouble. It's able to retain that elegant, attractive appearance while offering the functionality of hardy, durable material built to last. You won't have to sacrifice any aesthetic for its functionality.
Low Maintenance
Venetian plaster is one of the easiest coatings to clean. When you do spot some marks or dirt, you can easily clean it with a cloth, mild detergent and water. Because of its long-lasting qualities, it is also resistant to fading, meaning you won't have to worry about frequent maintenance once it's applied. If you're looking for a low-maintenance, easy coating to work with, Venetian plaster might be the choice.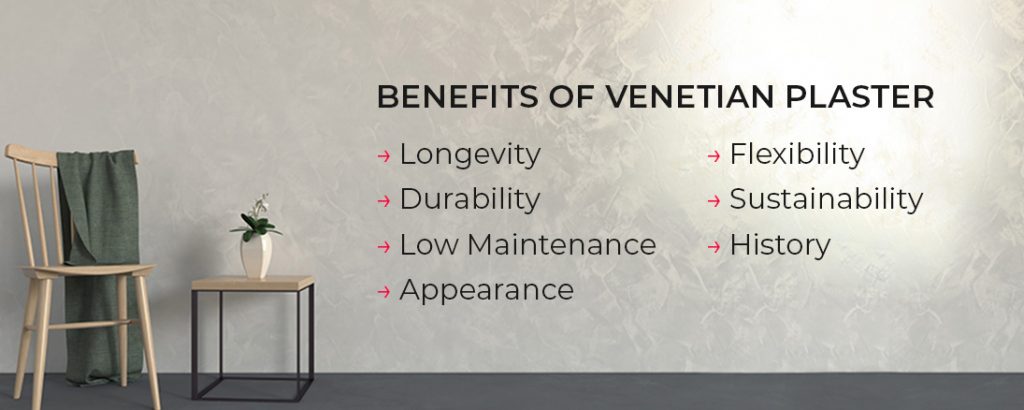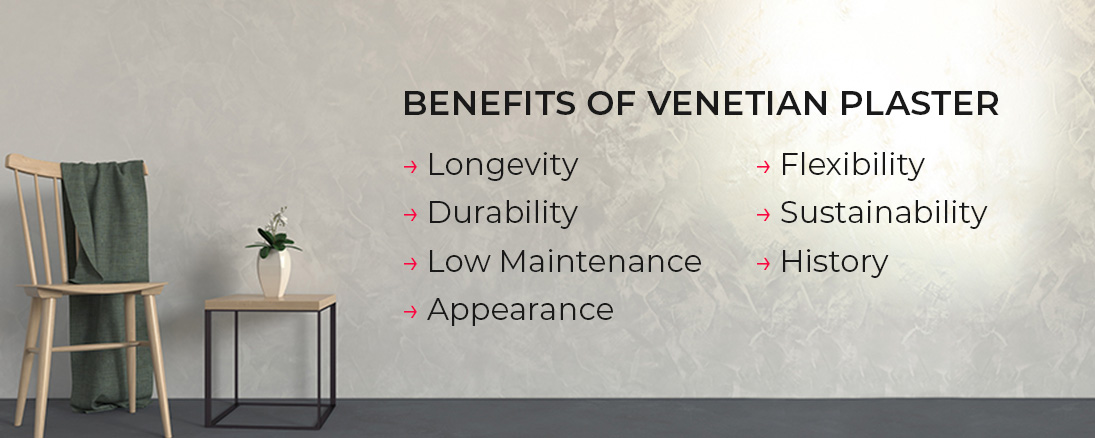 Appearance
The earthy, soft appearance of Venetian plaster is unique — it has a level of depth and movement that makes it appealing to look at. It can also have a warming effect on a space, reacting beautifully with natural light and creating a feeling of lightness and openness. Modern trends of simplicity and minimalism fit great with the appearance of Venetian plaster.
Flexibility
You can apply Venetian plaster to almost any surface and transform it into an elegant, modern style. Use it on drywall, old stone, wood, bricks and more. It's an amazingly versatile type of coating that lets you create the look you want in your home without narrowing your options. This flexibility makes it a popular choice for those with unique materials in their homes.
Sustainability
Many people today are looking for sustainable materials. The additives and toxic materials used in other products have turned a lot of people off and turned them towards more simple, basic options. This is another reason Venetian plaster has become so popular recently — its simple formula of limestone and water makes a natural product that works great in an interior setting. It can help keep air quality safe and prevent mold growth with its lime base.
Even aside from its beautiful appearance and durable qualities, Venetian plaster is a great way to promote sustainability.
History
Venetian plaster dates back to ancient times when master painters were able to create a unique mixture that echoed the look of stone. For some, this operates as a unique advantage of using the classic coating — you can instill a piece of history in your home that's been used for centuries. Some say it even has an old-world look tying it back to its ancient beginnings. It's a great coating that can take the benefits of its early beginnings and apply them to modern aesthetics.
Where Can Professionals Apply Venetian Plaster?
A professional can apply Venetian plaster to walls and ceilings alike — the key is to have a smooth, flat surface to apply the new layer. Any discrepancies can impact the paint job — this is why it's so important to enlist the help of a professional organization like Shoreline Painting that takes time to prepare your walls for the new coat. We will inspect your walls and ceilings for any holes or cracks. If we find some, we'll fill them and make sure they don't interfere with our job.
Painting Venetian Plaster
Venetian plaster painting is doable but also challenging work — Shoreline Painting has a team of experienced painters that can get the job done effectively. We know exactly how to paint Venetian plaster the right way — without sacrificing appearance or durability.
Preparation
Our process starts with preparation, where we'll examine every inch of your wall thoroughly, cleaning, sanding and removing any imperfection that may affect the next coating. This step is essential to ensure your next coat goes on smoothly.
We'll use a spotlight to reveal any hidden imperfections and apply a primer to get that smooth, flat surface to prepare it for the next coat.
Home Protection
Paint projects can be a messy business. Our team knows how to apply a coat while also keeping the cleanliness of your home in mind — that's why we take extra precautions even before we start the work.
Using papering on your floors, taped windows and coverings on all tiles and decorative hardware, we mark off the wall we're painting and ensure the rest of your home is protected from paint.
Paint Application
Our experienced team of painters will apply fresh coats of paint carefully and effectively. We use only the best-quality paints paired with expert craftsmanship for the best possible coating. Between coats, we'll clean and inspect to ensure each coat goes on smoothly.
Cleanup
A job site supervisor is present throughout the entire process to ensure the job goes smoothly. When we finish, we'll clean up the area completely and leave the space as we found it, allowing your new coat to dry.
At Shoreline Painting, we offer a comprehensive painting job that encompasses priming and preparing walls, applying paint and cleaning up the area. We're dedicated to doing a quality job every time so when it's finished, you're satisfied with the way it looks.
Contact Us Today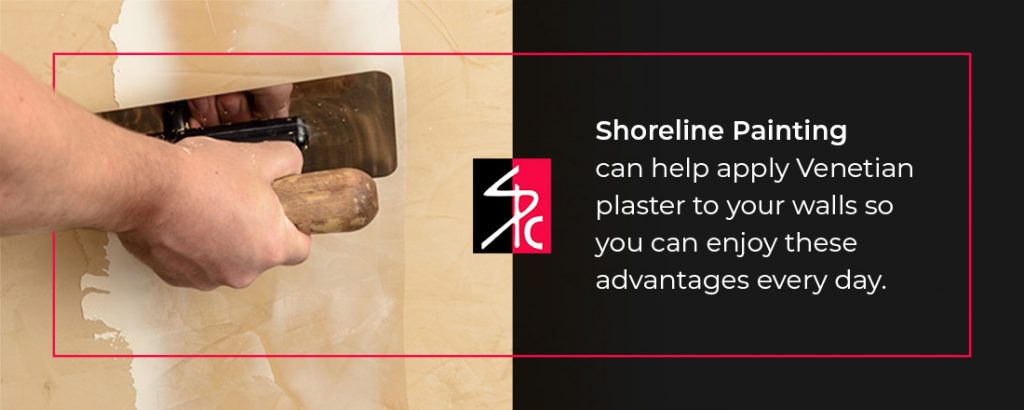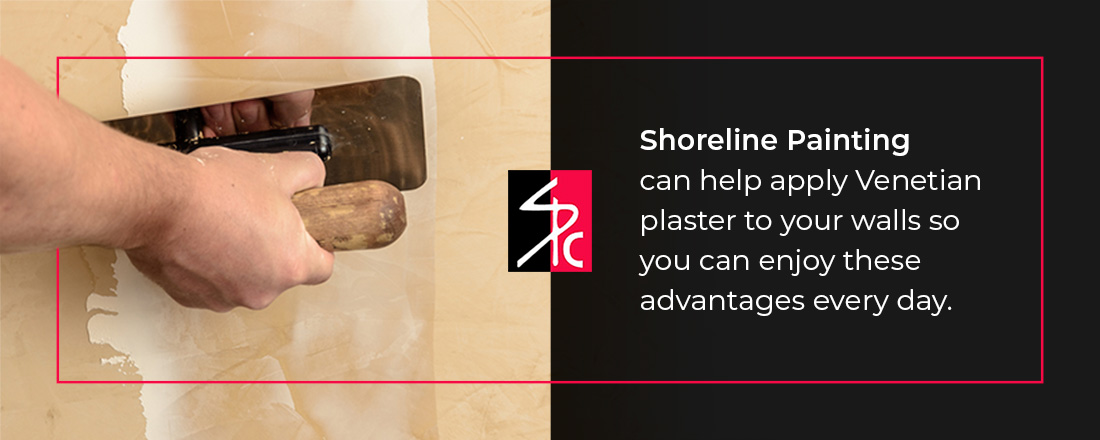 Venetian plaster offers so many benefits like durability, an elegant appearance, little maintenance and longevity. Shoreline Painting can apply Venetian plaster to your walls so you can enjoy these advantages every day. We're a Fine Paints of Europe Master Certified Painter, and our team has a deep knowledge of what it takes to do a quality job. Request a quote today!
Recent Posts