August 27, 2014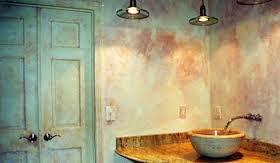 Are you tired of looking at plain walls in your home? Even if you carefully selected the colors for your interior painting, you may grow tired of looking at solid color walls with no texture or life to them. To help you dress up the walls in your home, interior painting contractors can apply faux paint finishes that generate more interest in your walls and add a personal touch to your home.
Sponge Painting
One way you can add some texture to your wall is with sponge painting. This interior painting technique requires two complementary colors, one of which should be lighter than the other. First, apply the darker shade with a roller and allow it to dry. Once it dries, dip a natural sponge in the lighter color and dab the paint over the darker wall. Apply as much or as little of the paint to create the effect you want.
Lined Painting
Another great way to create interest in your walls is to create subtle lines in the paint scheme. Interior painting contractors recommend using a layer of white, followed by a layer of a pale color, such as green or beige. Once you apply the colored paint, draw a graining comb from the ceiling down to the floor. Repeat this process across the room, creating subtle lines about two inches apart.
Striped Painting
If you want something a little bolder, interior painting in stripes can be the best option. To start, ask your interior painting contractors to help you choose two complementary colors. The next step is to tape off the stripes at the desired width. Use a level and measuring tape to ensure the lines are straight. You can then paint one color inside every other set of tape. Once that shade dries, you can remove the tape on the first color and add the second color.
Rag Painting
Similar to sponge painting, your interior painting contractors can use rag painting. The process is the same, except instead of a natural sponge, painters wrap a cloth loosely gathered into a ball and dip that into the paint to apply it to the wall. This process can also be used on wet paint with a dry cloth to remove paint from the wall.
Interior painting doesn't have to be boring. With the use of these and other techniques, interior painting contractors can help you transform every room in your home into something more interesting.
If you are looking for interior painting contractors who can help you create great faux finishes in Connecticut, contact us. Our experienced painters can help you achieve the look you want.
Recent Posts