July 3, 2014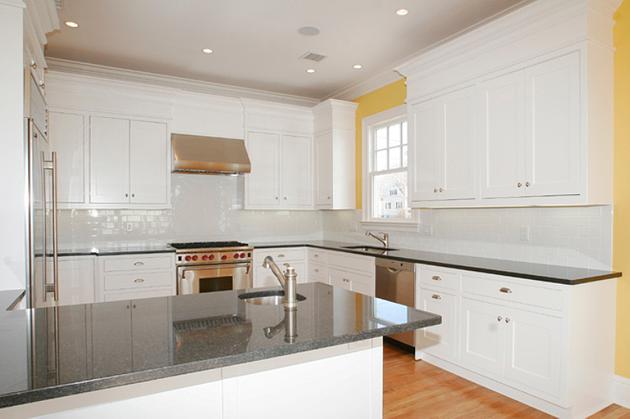 When most people think of interior house painting, they think of painting the walls to change the look of the rooms in their homes. However, there are plenty of other options for changing the look of your kitchen. For instance, if you have wood cabinets, you don't have to keep the natural wood look. Interior painting services can help you paint your cabinets to achieve a new look.
Should You Paint Your Cabinets?
The first question you need to ask yourself is whether you should paint your cabinets. Changing the look of your cabinets with paint isn't the right option for everyone. Some homeowners enjoy the natural look of the wood. Before you make the final decision on whether interior house painting for your cabinets is right for you, consider the rest of your décor and the overall look you want to achieve. In some cases, painting is needed to cover worn cabinets you can't afford to replace.
A Professional Look
It may seem simple enough to paint your cabinets, but even the smallest mistake will be noticeable. For this reason, it is important to hire professional interior painting services to paint your cabinets. These home painters understand the techniques required to create a professional look for your cabinets. Painting your cabinets in one color can be an option, but so can choosing two or three colors to create the beautiful cabinets you want for your kitchen.
The Right Process
You can't simply apply a coat of paint to your cabinets and expect beautiful results. This interior house painting project requires careful preparation, which can include stripping the finish from the wood. The professionals know exactly which steps are required to ensure the paint adheres to the wood and the end result is what you pictured.
Many homeowners take on their interior house painting in an effort to save money. Unfortunately, this can create an unprofessional look that doesn't exude the feel you were trying to accomplish. Experienced interior painting services can provide a beautiful paint job that will last and you can be proud to show off to your family and friends.
If you are looking for experienced interior painting services to help you achieve the kitchen of your dreams, contact us. Our Fairfield County painters are ready to help you paint your kitchen cabinets.
Recent Posts