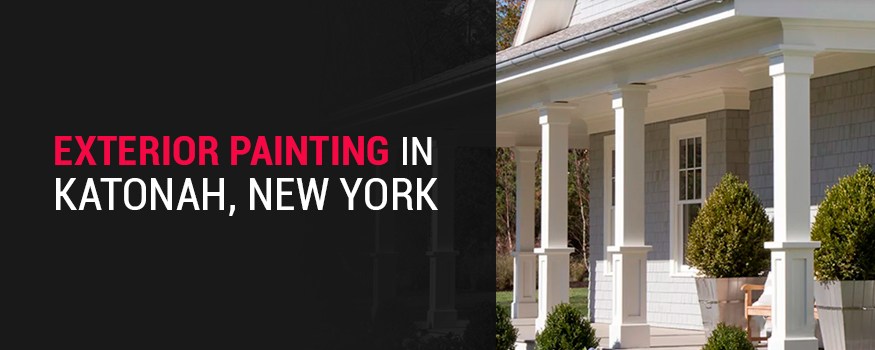 Exterior Painting Services in Katonah, NY
The town of Katonah is filled with beautiful homes that hold the tales of incredible history. When properly maintained, these historic buildings make beautiful homes. Their facades are worth admiring, and with our professional paint services, their aged exteriors display their full potential.
You understand the beauty of your home more than anyone. After all, the masterful architecture might be one of the top reasons you sought a home here. Give your home the care it deserves with a professional exterior paint job by Shoreline Painting to bring out the best in your property's curb appeal.
The Power of Our Professional Exterior Paintwork
As a superior exterior painting company, our work does wonders for your home's appearance. Here are some of the many advantages of commissioning our professionals for exterior painting services on your home:
Increased protection: The homes in Katonah are historical masterpieces. In 1893, New York City announced their plans to flood the small town to build a reservoir. Instead of moving their families, the families moved the town. They picked up their homes, placed them on timbers and had draft horses drag their homes to safety. That's the kind of dedication and history preserved in your home. Having our exterior painting contractors protect your home in a coat of paint adds a barrier to shield the structure from the elements. This protection becomes especially valuable during the harsh New York winters.
Accentuated architecture: The ornate beauty of these homes speaks for itself. Our professional exterior paint jobs draw attention to the fascinating facade of your home. The architecture of these unique buildings deserves to have its features properly displayed.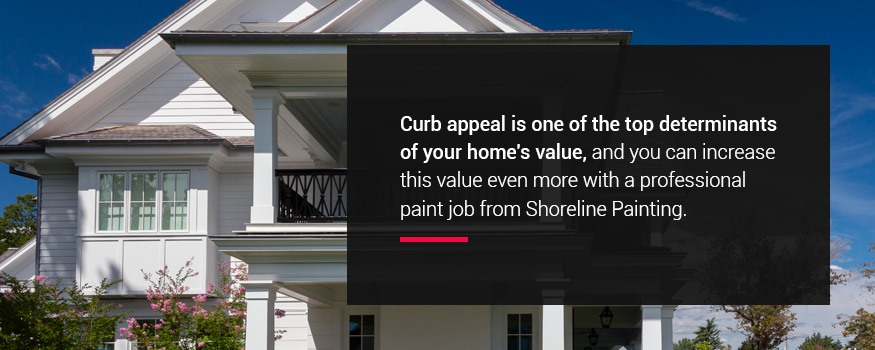 Increased curb appeal: Curb appeal is one of the top determinants of your home's value, and you can increase this value even more with our professional paint jobs. Whether you want to enjoy the enhanced aesthetic appeal or boost your home's value on the market, we can provide the look you need.
Pinpoint needed repairs: With older homes, the likelihood of wear, tear and minor external problems increases with age. When our professionals inspect your home prior to the paint job, they may notice problem areas in the home that professional contractors will need to address. Even the most attentive homeowner may not spot these issues, as some of them take a trained eye to catch. Our paint will protect against future problems caused by moisture and pests.
Paint proves its worth as a valuable asset to your home's value and longevity. A clean, crisp paint job from us at Shoreline Painting gives you an exterior you look forward to coming home to every day.
The Importance of Choosing a Company With Experience
Exterior painting projects are a complicated affair. When you invest in our professional paint services, your valuable time and money go into our excellent equipment and high-quality paint. The expertise required to produce a final result at the professional caliber takes years to cultivate, which is why choosing our exterior painting services helps you get the highest quality results possible.
Professionally painting the exterior of any home is a labor-intensive task that takes craftsmanship and experience for a successful job, which is why we take pride in our 35 years of experience and our unbeatable team.
The architecture in Katonah, New York, requires another level of expertise. The old buildings and complicated features make the difficult process of exterior painting even more delicate. With all our services, you can expect a superior job you'll take pride in. This exceptionalism ranges from the quality of the premium-grade industry paint to the excellent equipment we trust for our work. You want your effort and investment to pay off, and with our team, you're guaranteed the quality paint job your home deserves.
When you trust us to paint your home, you're choosing to work with elite craftsmen. With our proven track record and years of expertise, we can confidently say we offer the best exterior painting in Katonah, NY.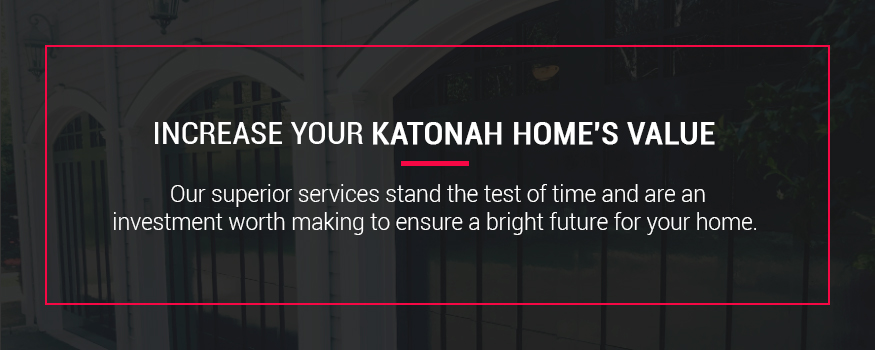 The Process of Working With Shoreline Painting
As a small business with 35 years of success, we take pride in treating our customers to the best overall painting experience available. We do not cut corners when it comes to your home's paint job. You do not become a Fine Paints of Europe Master Certified Painter without unparalleled attention to detail and a legacy of success.
When we're ready to bring out the paintbrushes, we do not overlook any detail in our process, which includes the following steps:
Protection: Under each area we work, we set drapes and drop cloths to protect zones of your home that do not need paint.
Preparation: Before we begin applying paint, we make sure the surface we are about to address is in perfect condition for accepting paint. This process includes spot priming, filling nail holes, and sanding and smoothing away any imperfections.
Cleaning and caulking: We caulk needed areas and clean away any grime, mildew and dirt that naturally builds up on homes over the years. Perfect paint application cannot begin until we ready your home's facade.
Paint selection: We take into account the surface of your home and the facade's needs for factors such as UV radiation and mold resistance, color preferences and environmental impact.
Painting: With paint durable enough to last and protect your home for years to come, we complete a job well done.
We're equipped and ready to take on your painting project. We're ready for every type of job — from complete exterior repainting to touch-ups to annual maintenance, our professionals provide the excellence your home deserves. We treat each project with extreme care so your home receives the individualized attention it needs for a high-quality result.
Increase Your Home's Value by Choosing Shoreline Painting Today
If you think it's time to transform your home's exterior with the power of an unforgettable paint job by the best exterior painting contractors in Katonah, contact Shoreline Painting today. Our superior services stand the test of time and are an investment worth making to ensure a bright future for your home.
Whether you want to increase your home's value before putting it on the market or you simply want a professional to refresh your home's exterior, Shoreline Painting offers the solutions you need to improve your home.
Exterior Home Painting in Katonah, NY
Professional Expertise from Shoreline Painting
There's no better way to turn heads and boost home value than with a newly painted exterior. If you're looking for professional exterior painting services please contact us today.