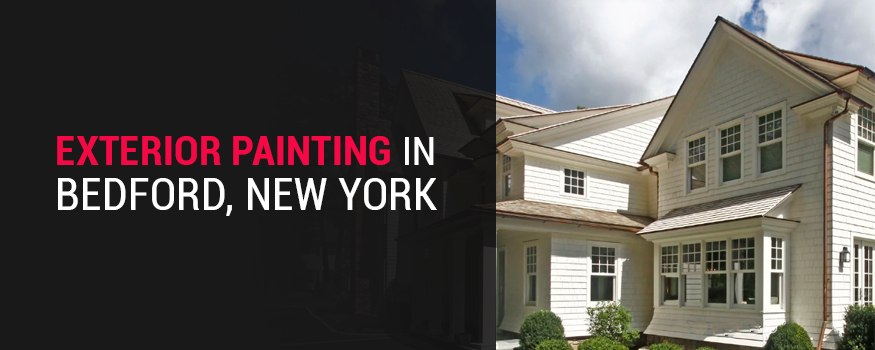 Exterior Painting Services in Bedford, NY
Have you been coming home to a drab, cracked paint job for years? You've probably gotten used to it and don't even realize how much of your home's appearance is due to its paint. If any of that sounds familiar to you, it may be time for a new coat of paint.
Bedford has no shortage of beautiful homes, and yours deserves the best of the best. To ensure that your house gets the attention it needs, trust in the experts. Shoreline Painting is the place to go for professional exterior painting services in Bedford, New York.
Advantages of Exterior Paint Work
Performing exterior paint work offers a wide variety of benefits to your Bedford home. It can:
Fix a deteriorating appearance: If the sides of your house are peeling or chipping, you may feel like it looks dated and doesn't reflect your modern tastes or that of your nicely updated neighborhood. Repainting over an old coat can breathe new life into your home and help it appear up-to-date.
Provide a refresh: Sometimes you simply grow tired of the color of your home. You can always give your house a reinvigorating new coat of paint to shake things up.
Boost curb appeal: Repainting is more than just visual. It can also raise the value of your home by improving its look. While providing a significant return on investment, it can boost the sale price of a home by 1-3%.
Protect itself from damage: Some modern paint formulas can stand up to the elements better than old ones. If you find that your paint has faded, is peeling from sun exposure or sees damage from rain and hail, new paint can offer better protection.
Bring your home up to par with the neighborhood: Homeowner's association breathing down your neck? If all of your neighbors have bright new paint jobs and impeccable landscaping, you may feel like your home's exterior leaves something to be desired. A fresh coat of paint can fix that.
Regardless of the color and finish, a new paint job is an excellent way to change several aspects of your home's appearance.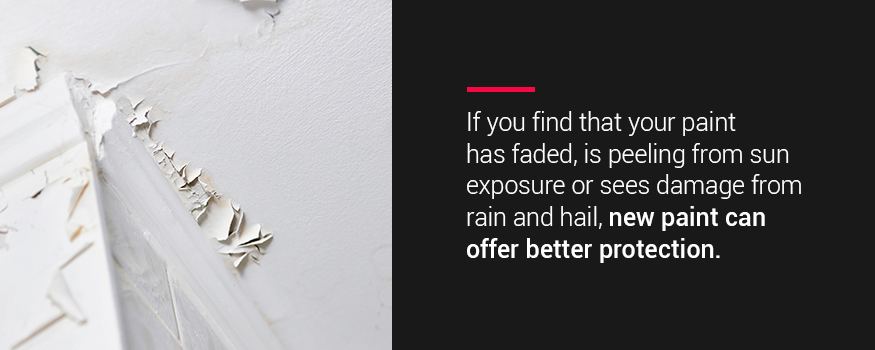 Why Choose the Professionals at Shoreline Painting
Painting a house is hard work. It is time-consuming, laborious and often requires the expertise of a trained professional. Working with the pros at Shoreline Painting provides many advantages, including:
Better results:With experienced professionals, a paint job is going to be better than one conducted by nonprofessionals. Pros know the techniques and behaviors that lead to excellent results. Whether it's creating a sharp edge or a safe work environment while climbing to the second story, they have tried and true experience and training that tells them what to do. Check out our portfolio to see what that looks like.
No interruptions: Working with our team means you don't have to take on this huge project. You can continue to go to work or spend time with the family. You don't need to put your life on hold for a week to paint a house. Plus, a whole team gets the job done fast — much faster than one person could.
Expert assistance: Even just choosing the paint can be more complicated than you think. What color coordinates with the pillars on your deck? Does your home need extra protection from the elements and diverse Northeastern temperatures? Our team can answer these questions and much more to help you choose the perfect paint.
Appropriate preparation: Many people don't fully understand how essential the preparation process is to exterior paint. A professional team takes care of removing dirt and grime, caulking the area and removing imperfections, creating the ideal base for a coat of paint to adhere to.
Access to tools: Most homeowners don't have ladders, scaffolds and large-scale paint tools lying around, but we do. Tools like this can help speed up the job and create a safer environment.
Working With Shoreline Painting
If you're going to be getting a new coat of paint and are looking for exterior painting contractors in Bedford or the surrounding areas, Shoreline Painting is the premier company for the job. Our technicians treat every paint job as if it were their own. We take every step necessary to ensure a quality result that will keep your home looking sharp for years to come.
How do we manage such high-end results? It's all thanks to our expert team of trained and certified technicians and over 35 years of experience in the area. We understand factors including:
The demands of the climate and how it can harm your house's paint
How to use advanced techniques for superior results
Color-matching services
To attest to the quality of Shoreline Painting, we've been named a Fine Paints of Europe Certified Master Painter. That means that we provide exceptional service and results with the help of several high-quality options from Fine Paints of Europe. These exterior paints include traditional oil and eco waterborne solutions with finishes in Satin, high-gloss Brilliant and super high-gloss Brilliant.
Other paint options include considerations for durability, mold and mildew resistance, ultraviolet resistance and environmental friendliness. We can help determine what your home needs and select the right paint for the job.
Our Process
Working with Shoreline Painting offers a process developed and tested over the last few decades to offer excellent results.
First, we place drop cloths and drapes down to protect the landscape and any surfaces nearby.
Then, we conduct preparation tasks. We will prime any areas that need it, fill any holes and sand off any imperfections in the surface.
Next up is cleaning. We remove any dirt, grime or mildew that have made their home on your siding. This is vital to ensuring that the paint has a smooth surface to adhere to. We will also caulk any areas that need to be filled.
After all the prep work is complete, we will begin painting, with an expert hand and a safe work environment.
Finally, we will clean the area, removing any traces that we were there. We will go over the job with you and ensure everything is up to your standards before leaving the home.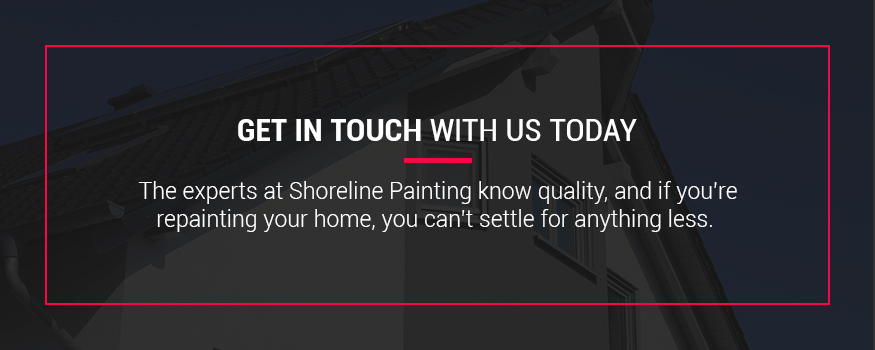 Partner With Shoreline for Exterior Painting Services in Bedford, New York
The experts at Shoreline Painting know quality, and if you're repainting your home, you can't settle for anything less. You see the exterior of your house every day, and the chances are that you've put a lot of work into its appearance overall. Keep it looking pristine with professional exterior painting services in Bedford from Shoreline Painting.
To get you started, we offer free estimates and can answer any questions you have about the process and our paint selection. Get in touch with us today for more information!
Exterior Home Painting in Bedford, NY
Professional Expertise from Shoreline Painting
There's no better way to turn heads and boost home value than with a newly painted exterior. If you're looking for professional exterior painting services please contact us today.