March 26, 2021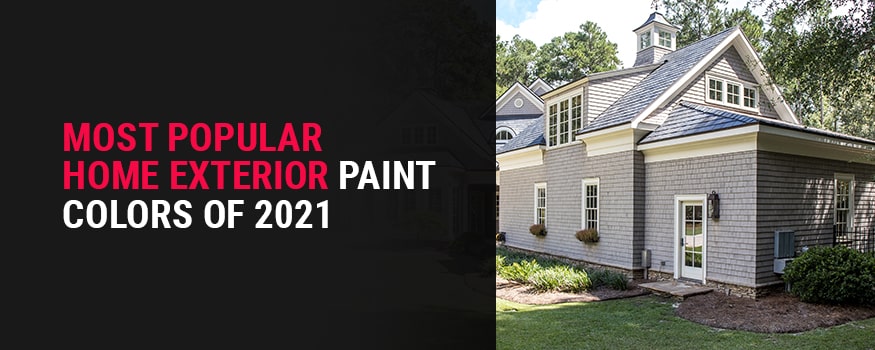 As you brainstorm home exterior color ideas for your own house, you may wonder what the next big thing in paint colors will be. Maybe you're choosing new interior colors in 2021 and want to freshen up your home's exterior to match. Or, perhaps you're preparing to sell your home and are looking to attract trend-forward buyers and increase curb appeal with a new paint job. Whatever the reason, when it's time to repaint, looking at the trends can inspire your own color choices and help you visualize what you're looking for.
Let's explore some of the most popular and trendy exterior paint colors we're seeing this year.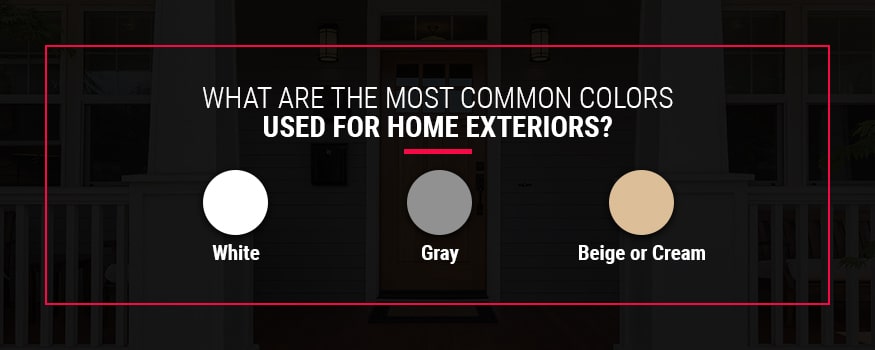 What Are the Most Common Colors Used for Home Exteriors?
Some house colors never go out of style. They line the blocks in practically every neighborhood and look nice both now and years into the future. The most common exterior home colors will always make their way into the trends with new spins on old staples. They also have broad appeal, making them excellent options for homeowners who want to play it safe or plan on selling their homes.
1. White
If you drive around your neighborhood, it probably won't take long to find a white house. That's because white is the most common house color. It's the exterior paint color that 52% of home improvement experts recommend to homeowners trying to sell their homes.
In Connecticut and throughout New England and New York, classic white colonial homes seem to be everywhere, especially in historic neighborhoods. It's also a requisite for the columns lining the entries on Greek revival homes. The latest trend toward simplicity in design has also given us beautiful and fresh takes on the white house in practically every architectural style. No matter what type of home you have, white can lend a clean, pure and serene aura. It can also make the house look bigger and, unlike other colors, will not fade in the sun.
To maintain a classic, historical look, you can pair white with black or dark-green shutters. It can also pop out against red or navy accents. All-white, with a white door and white trim, is another popular option. White also works as an accent color with nearly any house color. It's a go-to choice for trimming on many architectural styles.
2. Gray
Gray ties white as one of the most popular exterior paint colors. It's also seen an uptick in popularity thanks to minimalist design trends. Besides using gray as the main color, you can also play with it as an accent for shutters and trim. This choice can provide a subtler contrast from the main color than using pure white.
Gray comes in many shades, letting homeowners add more personality to their exteriors. If you're going gray, you have the choice between light or dark tones and warm or cool neutrals. You can choose a gray that's just a shade off from white to maintain a clean, minimalist look or something darker and moodier with green, blue or orange undertones.
3. Beige or Cream
Anything in the range of off-white can offer many of the same benefits as pure white, making tiny houses feel bigger and projecting a clean, unspoiled look. These colors add warmth with their earthy hues, making a home seem more inviting. After white and gray, cream is the top recommendation for prospective home sellers, with 18% of experts approving the paint color. Beige and ivory have the flexibility to appear southwestern or rustic, making them look right at home on anything from Mediterranean homes to farmhouses.
Like gray, these colors also make great accents. They combine well with sage green, barn red or darker browns. A coastal beach house can combine sandy beige with light blue or teal accents. A homeowner looking for a classic combination can pair a cream exterior with black or white accents.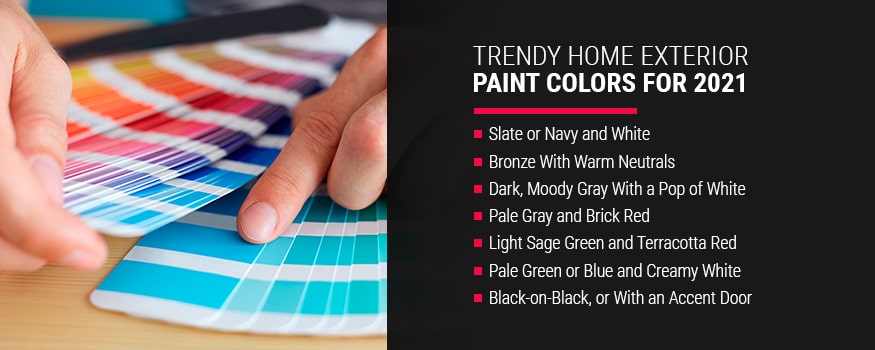 Trendy Home Exterior Paint Colors for 2021
Homeowners who want to part with the ordinary often seek inspiration from the latest trends. Architects and designers enjoy the challenge of making a new or unexpected color scheme work, and their ideas often spark a wave of contemporary homes using similar colors.
Choosing a new house color based on this year's most popular trends is a great way to attract home buyers to a property. It's also an excellent option for someone who wants to update a faded paint job to something new and in-vogue. As an early adopter of one of the latest trends, you can ensure your home looks a little different from the other houses in your neighborhood.
So, what are the trends taking root in 2021? Some of this year's most popular exterior paint colors include:
1. Slate or Navy and White
A popular trend in home exteriors is broad, white trim. If your home has a wide frame, you can make it pop with white paint against a dark slate gray or a navy blue. White borders create high contrast, and a blue-gray can look both moody and inviting. It's hard to go wrong with blue, which is the most common favorite color and even has a calming effect. Within the dark blues range, homeowners can choose from a deep, oceanic teal to a grayish blue bordering on black.
It's a particularly adept color scheme for cottages, coastal bungalows and Craftsman-style homes. Thick white columns along a covered porch can create excellent contrast against a dark blue facade. These color choices can also be a perfect fit for Georgian-style and Victorian homes. Contemporary architecture makes heavy use of dark greys and blues, making high-contrast blue and white feel right at home on mid-century modern homes.
2. Brown With Warm Neutrals
Farrow & Ball's 2021 colors of the year include a chocolatey brown, so it's only natural that this color would work its way into this year's home exterior trends. This particular shade has some red undertones to play with making it easy for you to find a unique exterior home color in a similar shade with red or orange undertones.
Either way, it looks great paired with light, warm accents like beiges, creams and grays. We also recommend combining it with metal bronze or copper accents. Bronze metal porch lights and even small details like door handles will look excellent against a bronze paint color. More bold pairings include copper metal roofs or gutters. For a brighter color scheme, you could also choose a warm cream, beige or even green-gray as your principal color with bronze accents on your doors and shutters or window frames.
Slated to be one of the most popular colors of the year, brown can work its way into almost any home. For a more subtle sheen, bronze can elevate the look in any home where brown could also work.
Brown is a particularly great choice for trim on a Tudor-style home since these homes have historically used brown trim with cream facades. Modern architecture is also known for using lots of nature-inspired earth tones like brown, paired with natural wood accents. Other great fits for brown as a primary or accent color include ranch houses, bungalows or homes with stone veneers.
3. Dark, Moody Gray With a Pop of White
While gray may be a timeless and popular exterior paint color, most homes tend to stick to light, warm neutrals. Going with a dark gray is a bold new trend that puts a new twist on a classic color scheme. You can find elegance and sophistication in deep charcoal against a white trim or by itself. Another option could be a medium gray as the dominant color, with a darker gray for trim and accents.
A dark, stormy gray is an unexpected choice for most homes. It can work well for a Cape Cod house or a Craftsman home against some white trim. Modern and contemporary architecture, known for its clean lines and minimalist design, can also break the rules with a deep shade of gray. Homeowners can also soften the look by incorporating natural elements like wood accents or a stone veneer.
4. Pale Gray and Brick Red
At Shoreline Painting, we've done our fair share of pale gray homes. They're a classic for a reason. If you're looking for a trendier twist on a popular exterior color, consider pairing your main gray color with red accents. Anything from brick red to barn red, when tastefully applied, can make a great statement for your gray home. Paired with white trim, red shutters, doors or porch railings could be just the pop of color you're looking for.
This color scheme is perfect for a farmhouse. You can even go bolder with larger swaths of barn red against the gray on a contemporary farmhouse. A red door on a pale gray colonial or Craftsman home can also work quite well.
5. Light Sage Green and Terracotta Red
Homeowners looking for an earthier, natural look might consider a pale green with a muted orange or red. These colors can look great together in a two-toned look or by themselves. These nature-inspired colors tend to play well off each other in a home nestled in the forest or surrounded by plants.
These earthy tones are best for Craftsman-style homes and bungalows. A pale olive or sage green is often associated with these architectural schools. For a subtler combination, you could incorporate both a light and dark olive green. For the splash of red, go with a natural orange or cedar stain on the front door. They can also pair nicely with cream or beige trim. This color combination is also historically-accurate for bold Victorian-style homes. They can incorporate dark and light olive greens with terracotta red and cream accents.
6. Pale Green or Blue and Creamy White
Another trend rising in popularity is pale green, verging on mint, or pale blue accents. They provide a subtle accent against a creamy white on the cool side of the color spectrum. A light color scheme can give your home a light, airy atmosphere, while the pale colors in the accents offer more personality to a white or off-white facade. Here, a dark teal or black door can add the final touch to tie the look together.
Invoking blue skies and calming oceans, these colors can also be featured more prominently on a coastal property, paired with a sandy beige or natural, light-stained wood. We've seen these color schemes work exceptionally well on Victorian homes and beach houses.
7. Black-on-Black, or With an Accent Door
All-black is more than just an intimidating and sophisticated fashion ensemble. It's also a bold color choice for a home exterior seeing rising popularity. While this trend is not for the faint of heart, it can be a rewarding, stand-out choice for the right home. With white being the most common and expected house color, black has the power to stop visitors in their tracks while still offering a neutral pallet that fits well with its surroundings.
A black house with a black door and black trim is a great way to make your home truly unique. If you want to go even bolder, consider a statement door in a bright color like orange, red, lime green or turquoise.
Urban Victorian properties can play on the look and create a subtle gothic vibe without looking uninviting. Even city townhouses can use black-on-black to stand out from the other nearby buildings without detracting from their surroundings. Meanwhile, modern houses can also play on the minimalist monochromatic look. No matter what type of home you have, choosing all black helps the eye focus on the house's design and overall shape. It's an excellent choice for any homeowner who is already in love with their home's architectural style.
How to Pick the Right Color Scheme for Your Home
It's easy to fall in love with a trendy color palette from a picture online. Still, you'll have to pick from possibly hundreds of similar colors in paint swatches to find the exact combination that's right for your home. Meanwhile, you want to ensure your chosen trend is a good fit for your home's style. Here's some guidance for weighing the trendsetting colors against your own taste and house.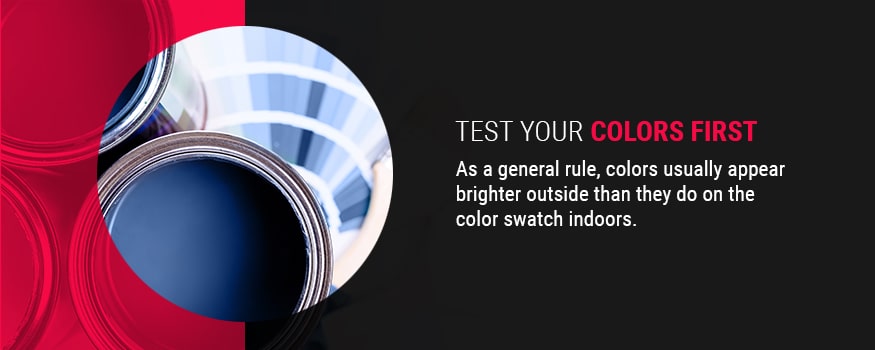 Test Your Colors First
As a general rule, colors usually appear brighter outside than they do on the color swatch indoors. A pure, bright white house would be blinding when used as an exterior color. For that reason, we usually recommend homeowners pick a shade a few steps down on their color swatch than the color they want their exterior to look. If you want a white house, a cream or off-white paint color would likely achieve the effect you're looking for.
Likewise, warm grays will appear cooler outdoors because natural sunlight has a bluer color temperature than most artificial lights. Also, the undertones in your home's surrounding features — whether that's a concrete walkway, a brick chimney or a stone veneer, will have a considerable effect on the color. If you want to leave these elements unpainted, you'll probably want to factor them into your color selection.
We always recommend testing paint colors outdoors before committing. It'll help you narrow down your options and figure out what looks good on your existing home.
Consider Your Home's Architecture
Among home improvement experts, 77% say your architecture is the biggest deciding factor in selecting a paint color before selling a house. The historical or common color schemes associated with your home's architecture can have a huge impact on the overall appearance of your chosen colors. You certainly don't have to stick with black on white for a colonial or tones of olive for a Victorian unless your town's historic building guidelines require it. Still, it can be wise to pay homage to the traditional color schemes associated with a particular home style.
Also, different types of homes have different accents, trimming and decorative features. Consider how the shapes and colors in your home will play off one another, alongside the style and color of the roof. A consultation with Shoreline Painting can help you choose the right colors for your home.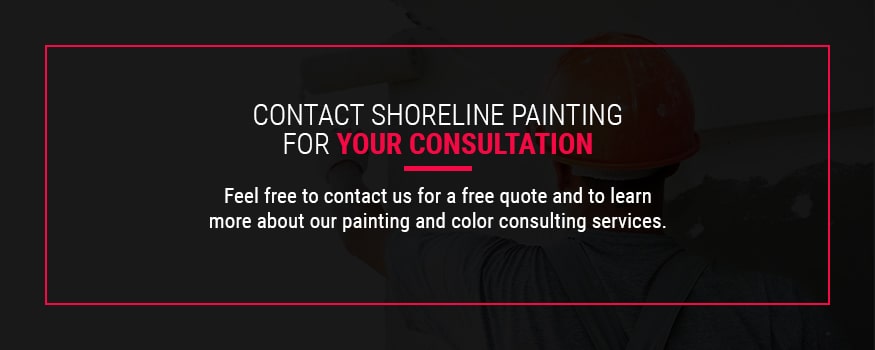 Contact Shoreline Painting for Your Consultation
There's a lot to love about all the trends and color schemes emerging this year. With so many options, it can be challenging to choose one that you love and will mesh perfectly with your home's exterior and landscaping. At Shoreline Painting, we're known for our artisan approach to exterior paint jobs and our excellent attention to detail. We also have a team of color consultants who will get to know you and your aesthetic and make recommendations for your home's architecture that are in line with the current color trends.
No matter what color you choose, you'll get the benefit of a skillful, clean and careful application. As a Fine Paints of Europe Certified Master Painter, we back up our work with years of experience. We'll give your home a brand new look, whether you choose to reapply the same colors or go with a different color scheme altogether. Feel free to contact us for a free quote and to learn more about our painting and color consulting services.
Recent Posts