July 30, 2021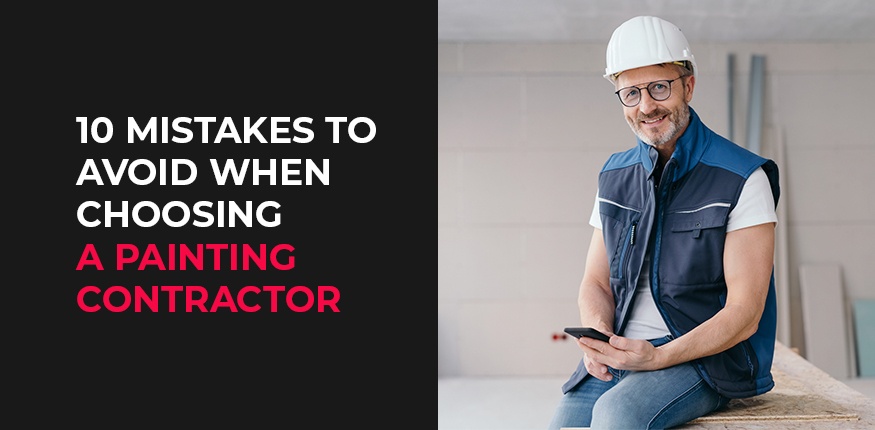 When choosing a painting contractor, you'll want to look for candidates who are reputable and experienced. During this process, however, you may encounter many pitfalls you'll want to avoid. In this article, we'll discuss the 10 most common painting contractor mistakes homeowners make on their search, as well as questions you should ask your painting contractor to be sure you understand what to expect.
1. Not Choosing a Local Contractor
One of the most common mistakes homeowners make is to do a generic search for a painting contractor. You want to be sure you search for one in your area. They don't have to be the next street over, but there are many benefits to choosing a local contractor who knows your town or region. First, it's more convenient for you and them. They can quickly and easily come to your home and provide you with an estimate for your painting project. If you're painting the exterior of your home, you want a local contractor who understands the weather conditions of your area and can deliver a high-quality paint job that will last season after season. Finally, a painter who is local is more likely to be able to work on your project every day and, if there's an emergency, you know they can respond more quickly than a company located far away. Shoreline Painting is family-owned and has been in business for over 30 years. Our painters are experts in local trends and deliver world-class workmanship.
2. Going With the Cheapest Option
Often, the cheapest option is not the best one. More times than not, you get what you pay for, and the option that delivers the best results costs a bit more. Keep in mind that the businesses that offer lower prices than their competitors may cut corners or overlook the details that ensure quality results. Additionally, companies offering incredibly low prices may be financially incapable of completing high-quality work if they can't afford high-quality paint. Since the quality of the paint job can depend on the quality of the paint used, you want to make sure the contractor you choose uses high-quality paints and never cuts corners. Shoreline Painting offers competitive prices and exceptional craftsmanship.
3. Getting Only One Estimate
We understand the temptation to go with the first estimate you receive, especially if you're in a rush to get a painting job done. However, if you just go with the first bid or estimate you get, you won't know whether you're being over- or undercharged for your project. While being undercharged may seem like a good thing, some contractors offer prices significantly lower than their competitors because they cut corners in one way or another. For example, they may not have the appropriate qualifications or experience, they may be using inferior materials, or the overall quality of their work may be substandard. We recommend getting estimates from at least two or three different painters so you can be sure you're paying a fair rate for high-quality finishing.
4. Not Fully Communicating What You Want
This is one of the most common reasons that homeowners end up unsatisfied with the work of painting contractors. When describing your project to a contractor, you need to be as detailed and clear as possible about what you want. For instance, if the existing paint is bubbling and peeling or mold and mildew are growing, the painters need to know this so they can come prepared. If you want to paint the ceiling as well as the walls, expect a clear coat on the molding or want the caulking to be replaced, be sure you communicate those things, too. When our expertly trained painters come to your home for a free estimate, they come prepared with the right questions to ask to make sure that you're thrilled with the final product.
5. Overlooking Insurance
If the painters you hire don't provide workers' compensation policies and general liability insurance, you will be responsible for any accident that occurs on your property during the project. Painting contractors that are insured can provide coverage for replacement, repairs and reimbursements for any damage that may occur to your property during the project. Workers' compensation protects you from having to pay extra charges if anyone on the painting team gets injured while working on your home. Having insurance is critical, and a reputable painter will freely show you proof of the insurance policies they have. Shoreline Painting is fully insured.
6. Not Doing Enough Research on the Contractor Before You Hire Them
Researching is a key step in the hiring process and helps you ensure you're hiring the best team for your project. Most homeowners, however, do not spend enough time on this part of the process. For example, let's say you care a lot about how well the floor in your home is protected during your painting project. If so, find out what measures the company takes to protect your flooring from splatters and drips. If you do a little research on your prospective painting contractor or ask them questions, you can easily find these things out. At Shoreline Painting, we have a meticulous painting process to deliver the highest quality service and we will happily answer any questions you have about your painting project.
7. Choosing an Inexperienced Contractor
While a new business deserves an opportunity to prove itself, hiring a new painting company with no track record is taking a big risk. You will want to be certain that the painter you hire has sufficient experience painting different types of homes. If the company is new, they may not know what exterior and interior painting mistakes to avoid, such as when to use primer or how long to wait between coats. You might feel better about using a newer company if the painters have extensive experience and can support the newly established company with their knowledge. Find out how experienced a painting contractor is by asking for testimonials or references. Shoreline Painting is happy to provide you with references from our hundreds of satisfied customers.
8. Not Asking for Certifications or Licensing
When searching for a painting contractor to paint your home, you won't want to pick just anyone. The state you live in may or may not require painters to be licensed to offer painting services. Whether a painter needs to be licensed also depends on where they work, so you might want to check your local regulations to see what requirements the painters must satisfy to paint your home legally. Whether they're licensed or not, all painting companies must at least be registered with the state where they offer painting services. Shoreline Painting is fully licensed and bonded.
9. Not Confirming Whether the Painter Can Deliver the Results You Want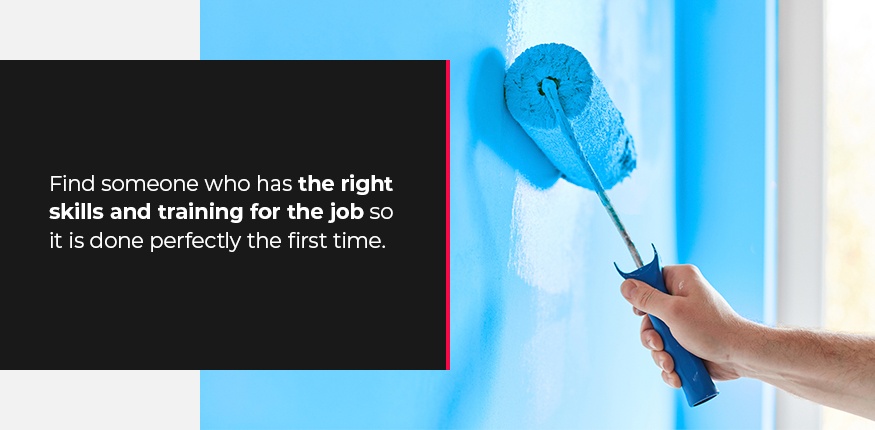 If all you need is a coat of paint to be applied to drywall that has already been primed, you could hire just about any painter to perform that service. However, if your project is more complex, such as one that requires a faux finish, stripes, a high sheen on a perfectly smooth surface or a Venetian plaster texture, you need to find someone who has the right skills and training for the job so it is done perfectly the first time. To determine whether the painting company you're considering can do this, be sure to discuss your vision and ask if they can achieve the look you want before you agree to anything.
10. Not Getting Your Contract in Writing
When hiring a painting contractor that matches your home needs the best, you will want to secure the contract in writing. Having a written contract provides you with certain legal protections when proceeding with the project. Without a written agreement, you risk losing that protection, especially in terms of insurance, which can come in the form of bodily injuries and property damages.
The contract should also contain many details about the project, including:
The estimated amount of time the job will take
The paint colors that will be used
The payment and work schedule
The materials required
6 Questions You Should Ask Your Painting Contractor
The decision to hire a professional painter is no small one, but you can do a few things to feel confident in your decision. One of those things is asking questions to ensure you understand what to expect. Whether you're changing the color in one room or need to update the entire exterior of your home, asking your painting contractor a few questions can help make the project go as smoothly as possible. Here are the top six questions we recommend asking any potential painter you're considering hiring.
1. Is There Anything I Need to Do Before You Arrive?
Some painting companies don't require their customers to do anything before the project starts, whereas others may request them to move furniture away from the job site or even do more extensive interior painting preparation such as removing outlet covers and light fixtures. Many painting companies are willing to move your furniture for a fee. Knowing what your contractor expects you to do ahead of time is a good idea for proper preparation and will help keep your project on time and on budget.
2. What Type of Preparation Work Will You Do?
Prep work is key for your project's success, and knowing what the painting crew will do is important. You'll want to be certain that the painting contractor you hire is not lowering costs by cutting out some critical steps from the project. For example, if the surface to be painted has nail holes or other imperfections, you will want to know whether the painter intends to make the necessary repairs or will just paint right over the problems. At Shoreline Painting, we handle all preparation work so you can be assured of the best quality finish. Our preparation includes protecting finished surfaces, filling holes, sanding and cleaning surfaces to ensure they are free of dust, dirt, mold and mildew.
3. How Many Painters Will Be Painting My Home?
It's also good to know how many painters will be working on your project since the number of workers can affect how long a painting project takes to complete. You should also find out whether the painters working on your project are subcontractors or employees. Employees have established connections with the painting company and are committed to the project and your satisfaction. Shoreline Painting has a large team of carefully selected and rigorously trained employees to complete projects in a timely manner while upholding our strict quality standards.
4. When Will You Start Work Each Day?
If you prefer to be around while a project is underway, you'll want to know the contractor's schedule so you can organize your time around when the painting work will be done. Furthermore, if the company is working on other projects at the same time, this may explain why they won't be at your job site every day or are only there for a few hours a day. When you work with Shoreline Painting, we will let you know how long you can expect us to be at your house and will contact you if that schedule needs to change for any reason.
5. What Will You Do to Ensure My House Stays Clean?
Painting is often a messy process. Additionally, accidents can happen, as with any home renovation project. Confirm that the painting contractor will clean all messes, and not leave you to clean up after them. Professional, trustworthy contractors will gladly provide details like these. At Shoreline Painting, we clean our work areas daily, whether that means dusting rooms or removing debris from yards, and at the end of a project.
6. If I Have Questions, Who Should I Contact?
Making sure you have a contact who you can reach out to if you have questions about the project is important, especially if an unexpected issue arises. Your contact could be someone from the company's office or a supervisor assigned to your project who may be on the job site daily. It's best if you can get contact information for a specific person who will be familiar with your painting project rather than a generic company number. When we are working on a project, a job site supervisor, crew leader, and general manager is on-site at all times to ensure quality work and provide immediate expert answers to any questions you may have.
Choose a Trusted Professional for Your Painting Project
For high-quality results on your interior and exterior paint jobs, Shoreline Painting & Drywall is the team of painting professionals you want. For over 35 years, we have been providing residents in Fairfield County, Connecticut; Westchester County, New York; Manhattan, New York; the Hamptons and surrounding areas with superior paint jobs. We quality name brand paints, including paint from Fine Paints of Europe, a premium Dutch paint company and are proud to be a Fine Paints of Europe Certified Master Painter. We also offer color consultations if you need guidance in choosing colors for your painting project.
If you're looking for a painting contractor to refresh your home with a paint job, reach out to us online or by calling 203-302-1086.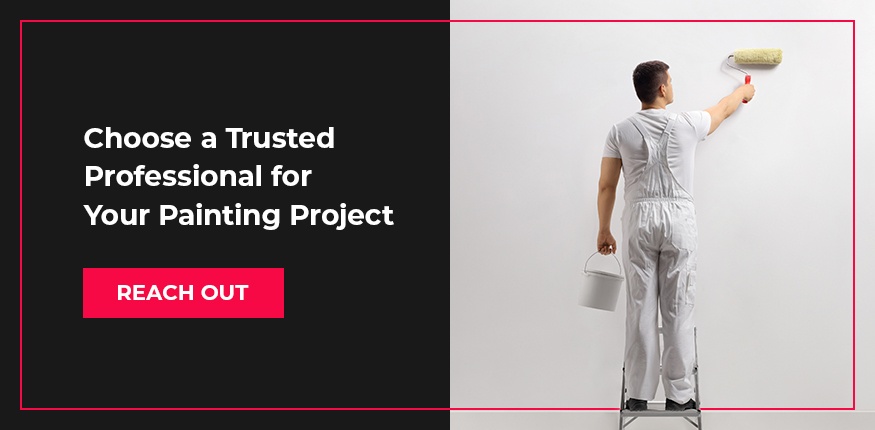 Recent Posts