July 22, 2022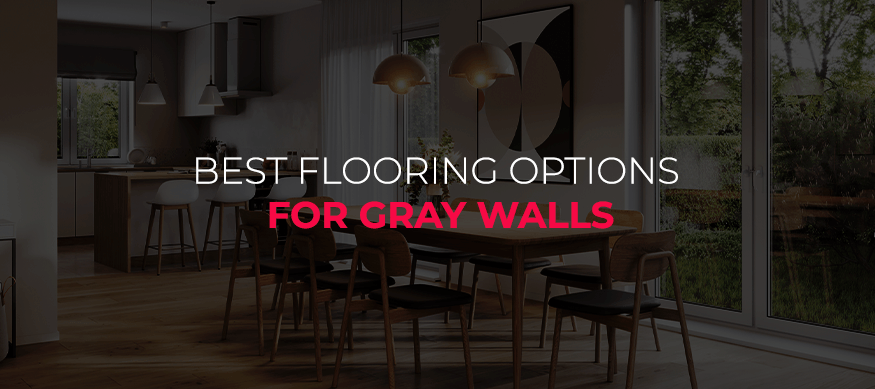 As a homeowner, you want your house to have an interior you're proud of. A great way to do this is to find the right colors. With the right color scheme, you can create the room you want, creating contrast, building depth and targeting a certain style. One of the hottest colors recently has been gray — it offers so many advantages, including versatility, various shades and a modern feel:
Versatility: Gray can go with almost anything. It's a neutral, understated color that can fade into the background while complementing many different colors. This versatility allows homeowners to use gray paint without having to worry as much about what it's going to pair with.
Variety: You can choose from numerous shades — gray spans a huge spectrum. You can also mix gray with colors like beige or blue to add hints of other colors, allowing you to use your favorite colors while also retaining that understated, neutral tone.
Modernity: Gray is also a modern color. It accents today's sharper, more minimalistic designs and works as an ideal central color for many new and remodeled homes.
Because of these advantages, gray has become one of the most popular colors to use in homes. Still, since gray is such a versatile color with nearly endless shades to choose from, you may be having trouble finding the best floor color for gray walls. This article looks at what color floors go with gray walls and ways you can use gray to personalize your home.
Do Gray Walls Go With Wood Floors?
Gray walls pair well with many types of wood floors, whether you have light flooring or a dark finish. The neutral base of gray complements wood tones of all types and can bring out many of the colors and textures of the floor. When pairing wood flooring with gray walls, consider what shades to use and what type of wood floor you have to choose the best colors to make the whole room work together.
For lighter wood floors, you'll likely want to use brighter shades of gray to help you create an open feel to a home. With darker hardwood floors, you could opt for a medium greige, light tones of gray for more contrast or even gray with a hint of violet to bring out the colors of your flooring. Keep in mind what type of flooring you have and the function you want the colors to play in your home. For example, do you want an open feel or a room that's cozier and more reserved?
Figuring out the best flooring for gray walls can take some time. Learning what kind of paint to pair with light wood floors and dark hardwood can help you make an informed decision. If you're still unsure about what type of paint to use, you can always contact the professionals at Shoreline Painting. We'll talk you through your situation and help you find the best option for your home.
Light Wood Floors With Gray Paint
A light wood floor will help add space to a room and create an airy, open feeling. You'll probably want to retain that open feeling while complementing the light colors. Gray paint is the perfect choice for light wood floors, providing subtle contrast while contributing to the room's overall style.
Opt for lighter shades of gray to blend in with the bright feel of the room, or choose a darker shade to create more contrast.
If your floors are white, lighter shades of natural wood or gray, then painting your walls gray could be an attractive option for you.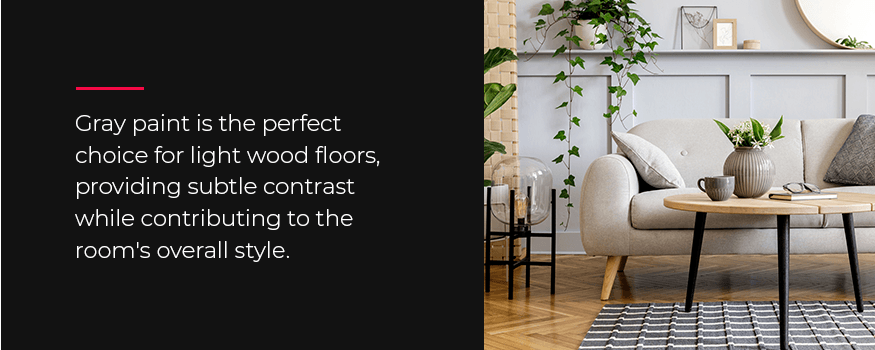 Dark Hardwood Floors With Gray Paint
Others may be dealing with dark hardwood for their flooring. While gray walls work well with lighter colors, they can also be the perfect complement to darker floors, too. You have various gray shades to choose from that can pair well with your dark hardwood.
Beige and gray have both been on the rise recently as popular, modern wall colors. To match dark hardwood, you can blend these two colors together, combining the benefits of each color to create "greige," a color that pairs well with darker shades.
You could also use lighter tones of gray to offset the darker, richer flooring colors of the hardwood. Lighter colors add more spaciousness to a room and prevent it from feeling too confining. If you want to add a little color to a room, you may want to consider including a bit of violet to a gray base. Hints of violet can work well with dark hardwood.
When you're matching hardwood floors with gray walls, it's important to choose a color that you know will work. Many shades of gray — greige, light gray and violet tints — can complement your dark hardwood. If you're looking for a professional service to paint your walls the shade you want, Shoreline Painting is ready to help you get what you need.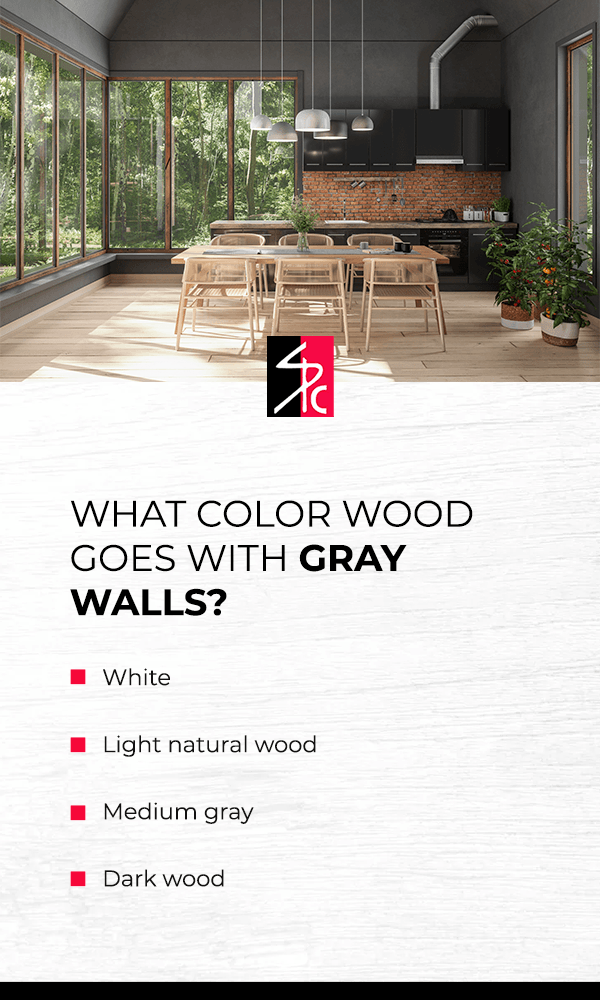 What Color Wood Goes With Gray Walls?
While there may not be one perfect color to go with your gray walls, you can select from many different colors to find what you need:
White: If you're looking to open up a room, white wood flooring is your answer. Pairing white with some open windows can create a relaxing, airy atmosphere. Gray walls help tie these elements together and add some structure while also contributing to the open design.
Light natural wood: Another common option for flooring today is light natural wood. Natural wood can add a lot of character to a home. Gray walls can help keep the attention on the flooring while also building out the room.
Medium gray: Even mid-tones of gray flooring can still pair nicely with gray walls. If you decide to use gray on both your floors and walls, be sure to include hints of colors throughout the room to add some contrast.
Dark wood: Dark, rich colors can also work well with gray walls. You can create a cozy, reserved living room or even office space with darker floors and a neutral shade like gray to match.
Matching Gray Paint With Tile Floors
Tile floors are often the perfect addition to your home, offering interesting textures and vibrant designs. If you're wondering what color walls can pair with your new tile floors, seek out gray tones to work as a compliment.
Travertine Tile With Gray Walls
Travertine tile is often earthy and Tuscan, so it pairs well with various colors. While you'll make your decision partially based on what your tile looks like, you'll usually be safe going with a shade of gray. Lighter gray tones can be an ideal choice to emphasize a Mediterranean color scheme and create a welcoming, outdoor feel to your home.
Greige Tile With Gray Walls
Some might think that adding gray walls to greige tile might be too much of the same thing, but when it's done right, it can be an effective way to create a truly unique room. Hints of beige in the floor will help add some color, while gray walls can create a balanced overall color scheme. Beige tile can also fit in well with gray walls.
Warm and Cool Tile With Gray Walls
As you match tile with your walls, keep in mind the different aspects of your tile, especially whether you're using warm or cool colors. For a warm-colored tile, you can pair gray walls with tones of white to build out an open-air, welcoming space. For cool-colored tiles, gray colors with hints of blue or violet can help add to that rich color scheme.
What Color Tile Goes With Gray Walls?
Many different colors of tile pair well with gray walls. Lighter, earthier tones can be the perfect gray complement. You'll also want to consider the specific type of tile you have to make the best decision. Think about the room's function, your home's overall aesthetics and how you want the area to look. If you're still stuck, Shoreline Painting is here to help.
Combining Gray Paint With Carpeted Floors
If you have carpeted floors and are wondering how to integrate a shade of gray paint into the room, look at the various types of carpeting available to see what would work well with what you have.
White Carpeting
White carpeting can help make a room look larger than it already is. Combine white carpeting with open windows and natural light, and you have an open room that feels like a part of the outside world. Gray walls can be an excellent choice to pair with your white carpeting. Lighter shades of gray can help retain that open feel while adding more depth to your home.
Dark Carpeting
Dark carpeting brings richness to a room. Preserve this richness by adding a color that doesn't take away too much from that dark coloring. A neutral shade such as gray with a darker undertone can help complement dark carpeting.
Light Carpeting
Lighter shades of carpeting give you many options to work with as a homeowner. You could build off of this light theme by adding light tones of gray, or add something a little more structured like a greige. When it comes to these decisions, it's best to think about how you want the room to look and your specific preferences.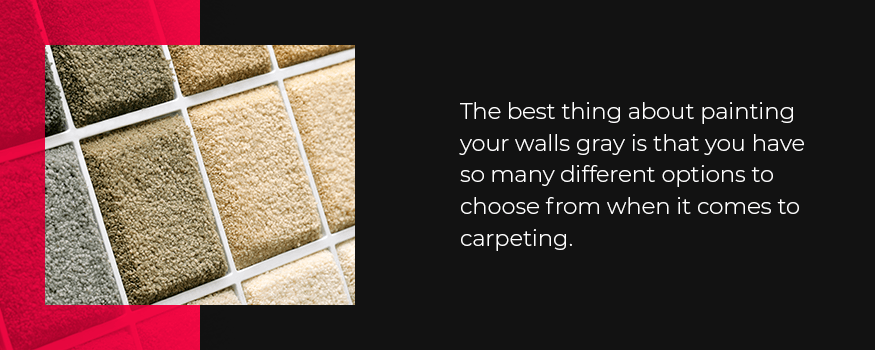 What Color Carpet Goes With Gray Walls?
The best thing about painting your walls gray is that you have so many different options to choose from when it comes to carpeting. Still, all those options mean there are endless carpet and wall color combinations to consider. You may be spending a lot of time trying to find the perfect carpet for your gray walls. It can help to think about a few different aspects of the room you're working with, such as the function, aesthetics and color scheme:
Function: What kind of room are you decorating? If it's an office space, you may be looking for a more vibrant color to help energize the room and keep you focused throughout the day. For a living room, you may want a deeper, richer color that emphasizes relaxation.
Style: You should aim for a particular overall style as you match your floors and walls. You may go with a more earthy, grounding aesthetic or something modern that combines contrasting colors.
Color scheme: The last aspect you'll want to consider is the existing color scheme to determine what will go with what you already have in your home. For example, if you have a modern, monochromatic color palette already decorating the room, you'll want to choose carpeting that fits into this overall aesthetic.
Use these ideas to help you choose the right carpeting colors to match your gray walls. The experts at Shoreline Painting can help you figure out what shade of gray would work best for your space.
Contact Shoreline Painting
Deciding how to match your walls to floors can be a surprisingly challenging task. It can be difficult to know exactly what a room will look like until the paint is already on the walls. Still, you can take steps to ensure you choose a color that will work with what you have. Researching can help lead you toward the right decision. It's also helpful to work with the professionals at Shoreline Painting, who can discuss all your options to help you decide which color would be best for your home.
When you work with Shoreline Painting, you'll receive several advantages that other companies can't offer, including quality, experience and convenience:
Quality: At Shoreline Painting, we're committed to using quality products and ensuring our customers are satisfied with the finished job. Our rigorous painting process involves intricate detail and an emphasis on the craft. We're a Fine Paints of Europe Master Certified Painter, which means we know what it takes to give our customers the high-quality finishes they expect.
Experience: We've had years to perfect our painting expertise. Consulting with a professional service who knows exactly what they're doing is the best way to get the job done right the first time and avoid maintenance issues in the future. At Shoreline Painting, we'll help you bring your interior dream to life.
Convenience: Painting walls on your own takes a lot of time and energy that may be better spent on other tasks or enjoying your family. Shoreline Painting allows you to focus on more important parts of your life while giving you confidence that your painting job is taken care of properly.
Our team is made up of experts on local painting trends and can help you find the perfect shade of gray to match your existing colors. Start working with Shoreline Painting today to make your interior painting process easy. Contact us today!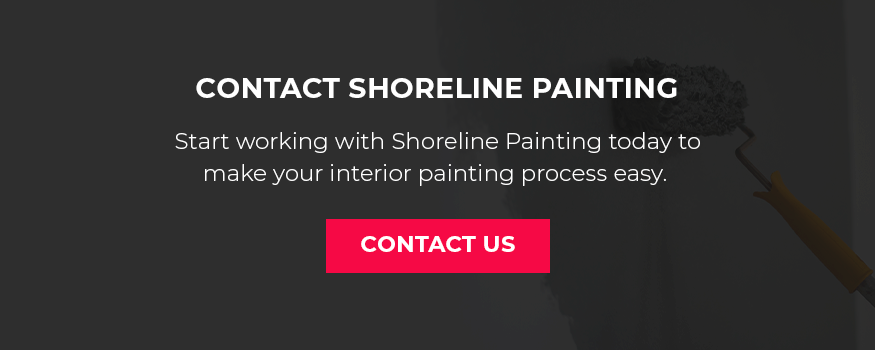 Recent Posts