March 28, 2017

Whether you're moving into a new house in 2017 or you simply want to refresh up one of your rooms that's feeling a little outdated, you need to give serious consideration to the paint colors you choose. They can always be altered, of course, but if you find a shade that sticks, it means you only have to move your furniture around once. Decorations and accent furniture can be changed much more easily than paint on the wall!
It's hard to strike a balance and find a color that's both long-lasting and stylish. However, it is possible to pick a contemporary favorite that will still serve you well for several years. When something is referred to as a "trend" it may sound fleeting, but the hottest paint colors for the upcoming year are both up-to-the-minute and versatile.
The team at Shoreline Painting & Drywall is here to give you the scoop on what paint colors are trending this year as you go about creating an all-new look for one of your rooms — or even your whole house.
How Color Trends Are Predicted
You might be surprised to learn that color forecasters go to a lot of trouble to predict what colors will trend in the next year. They don't just draw them out of a hat or select the shades they personally prefer each year. Their work includes attending trade shows and browsing showrooms, flipping through magazines, looking at runway fashions and researching trends with auto manufacturers and the housewares industry. A lot of effort goes into determining what industry professionals are leaning toward.
Color forecasters also look at what's going on culturally, the current atmosphere and what mood they want to evoke for the next year. Lately, this country and nations across the world have experienced a time of upheaval, but there's still hope and happiness on the horizon if we chase after it. Paint brands and color forecasters alike wanted to portray feelings of peace and stability for when everyday life feels a little too crazy and out of hand.
Exterior Home Painting
Though much of this article addresses the hottest paint colors of 2017 in terms of interior design, most of the hues mentioned could just as easily be used for exterior painting as well. There's no rule that says your home has to remain the typical white, gray or brown. Refresh your old coat of paint or make a splash with a bold new shade this year!
Theoretically, your house could be painted at any time of year, but temperature is a huge factor that will influence the quality of the paint job. Whether it's too cold or too hot, it will affect the consistency of the paint. You'll want to avoid ice and snow, but also steer clear of the harsh rays of sunlight in the summertime.
The experts at Shoreline Painting know the best time of year to repaint your home exterior is in the spring. Read on to see some of the gorgeous colors you could choose!
2017 Paint Color Trends at a Glance
Thanks to the internet and social media, we're more connected than ever before. You no longer have to be a world traveler to learn about different cultures and experience what they have to offer. Experts predict this connection and cultural intersection will show in the United States with design influences from China, Cuba and numerous African countries.
This will have an impact on our color palettes, as well. Because red is an important color for many cultures, displaying strength and bravery, definitely expect it to make an appearance in the home interior of 2017. Rich, earthy yellows will also come into style, with yellow-green providing an uplifting accent.

Gray is still as popular as ever, but expect to see warmer shades tinged with brown undertones in the upcoming year. This cozy neutral will act as the backdrop for the bold shades we're seeing trending. Plenty of palettes will be put together that mix our ever-advancing technology with a sense of eco-consciousness and closeness to nature. Botanical greens and dark plum hues will anchor the rooms of these palettes, while accents of yellow or orange will serve as points of interest.
For those who prefer minimalism and a lifestyle that gets back to the basics, look for pale tones and organic textures. Soft and romantic colors, like dusty blue and sage green, will dominate these simplistic but beautiful palettes.
It's clear that people tend to make color choices based not only on the world around them, but also on their own personality. What story do you want to tell in your house, and what traits do you want to highlight? Extroverts and artsy types may be drawn toward attention-grabbing hues, such as spicy red or lime green. Traditional, down-to-earth homeowners may prefer deep grays and rich greens on their walls.
If you tend to be shy or would rather read a good book than socialize, you may want to be surrounded by pastel colors, like light blue or pink. After all, it's your home! It should reflect your values and personality and make you feel at ease.
The Hottest Colors for 2017 From Paint Companies
In recent years, it has become common for all the top paint brands to release their color choices for the upcoming year. Most companies pick one or two shades, but some go all-out and create entire palettes.
Benjamin Moore
Benjamin Moore has picked their hue called Shadow as this year's paint color of choice. It's a grayish purple that's rich and royal — a contemporary color choice that radiates amethyst in every room. This stunning shade of violet works best with gold, rich magenta and deep neutrals like black and dark gray. Play up your staircase or bring a sense of drama to your living room with Shadow by Benjamin Moore.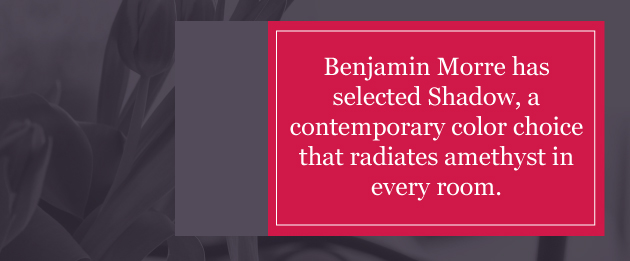 Fine Paints of Europe
Fine Paints of Europe, a luxurious brand out of Holland, created Retro Metro Green for their 2017 color of the year. It's a perfect balance of calming and inspiring, and it blends in seamlessly in city living spaces while still evoking a connection to nature. The understated complexity of this shade of pale green belongs in your home.
This luxurious brand is all about making a bold impression in the upcoming year. Pops of vivid colors can be seen throughout their current portfolio. High gloss is in, playing up everything from wine red to dark neutrals like black and charcoal gray. They especially favor cool colors this year, showcasing numerous shades of teal, lime green, turquoise, blue and purple.
You'll be able to achieve a brilliant finish on the interior or exterior of your home with this long-lasting paint. Best of all, Shoreline Painting & Drywall is a Fine Paints of Europe Certified Master Painter, meaning we're familiar with the product line and have been trusted to maintain the high quality of our work as brand ambassadors.
Farrow & Ball
Farrow & Ball has come out with nine new colors for the year 2017. Many of them are neutrals, such as Shadow White, Drop Cloth, Worsted and the darker Salon Drab. Cromarty is a pale shade of gray-green, while the blush-colored Peignoir proves that shades like dusty pink can be utilized as neutrals. This paint stands out from their palette of new colors because of the sense of elegance it evokes.
Finally, Farrow & Ball presents three new paints in cool tones with Vardo, Yearbridge Green and Inchyra Blue.
Pantone
Pantone ended up going above and beyond, creating nine different color palettes for the year 2017:
The palette Day Dreaming heavily features pastels, while At Ease favors sophisticated neutrals and muted hues. Native Instincts blends together different cultural influences. Florabundant showcases pops of color found in flower gardens, like red, pink and green. Acquired Taste takes risks by putting eclectic shades and textures together.
Then, there's the Forest Bathing palette, with multiple shades of green to help homeowners relax, and Reminiscence, which is anchored by traditional blue and sepia tones but still allows for glimpses of contemporary colors.
Graphic Imprints is a palette that's primarily black and white, but the neutral base lends itself to accents of vibrant colors like yellow, blue, pink, green and orange. In contrast, Raw Materials draws from nature and largely consists of earthy tones. No matter who you are or what you like, you're sure to find something you fancy among these distinct and gorgeous palettes.
Sherwin Williams
The 2017 color of the year as chosen by Sherwin-Williams is Poised Taupe. It isn't just any old gray, because the undertones of brown add complexity and nuance. This subtle combination of gray and brown becomes a weathered-looking, neutral shade that exudes warmth. Poised Taupe will bring a sense of sanctuary into your house, help relieve the stress of the world outside and just generally make you feel cozier. It can create an inviting atmosphere in your living room or provide comfort in your bedroom.
If you want to promote restoration and balance in your home interior, this color is what you're looking for. The ideal shades to pair with this particular taupe include pale blues, rosy hues, vintage pastels and pops of yellow.

Olympic
The brand Olympic has called Cloudberry the paint color of 2017. It is a soft, rejuvenating shade of violet that will feel like a breath of fresh air carrying you away from your bustling day-to-day life. Far from only coordinating well with blues and purples, Cloudberry can be used with a variety of accents, like red, pale greens and even metallic shades. It would look lovely in your front hallway or main bathroom.
Valspar
Valspar has chosen Crushed Oregano, a more peaceful and understated shade of olive green, as their paint color for 2017. This yellow-green invites the beauty of nature indoors. As you might have guessed, it pairs best with greens and browns, but some shades of red and blue will also match well. It will bring serenity to your bedroom, peace to your laundry room or positive energy to your kitchen.
Dunn-Edwards
Dunn-Edwards has tapped their cheery paint color Honey Glow as the star for 2017. This shade of golden yellow isn't too high-energy for your living space, but its orange undertones will still have a way of elevating your mood and piquing your curiosity. Use it in your kitchen or to make your guest bedroom a bit more playful. Rooms covered in this paint color would look fantastic with blue, red and orange furniture or accessories.
Not only is Honey Glow a gorgeous and optimistic color, but Dunn-Edwards also plans to donate 10% of the sales of this specific paint to HoneyLove, a non-profit organization dedicated to saving bees from extinction. That's a cause we should all get behind!
Glidden
Glidden has said that their color of 2017 is Byzantine Blue. This attractive paint is grayish blue with a hint of purple. The nature of Byzantine Blue means that whatever color you combine it with will emphasize its different qualities. For instance, it will look gray in a room full of dark neutrals. However, if you use it in a white room, it will appear more blue and violet.
Consider the furniture and design accents you already own before covering your walls with this versatile paint. We personally recommend it for use in your bathroom or child's bedroom.
Behr
The three color palettes Behr released recently line up perfectly with three different personality types — Confident, Composed and Comfortable:
The Confident palette primarily consists of bold hues with a couple of lighter yellows for balance.
The Composed palette features deep blues and grays accented by green, magenta and pale brown.
The Comfortable palette gives equal importance to its pastel shades of blue, pink, green and gold.
Krylon
The spray paint company Krylon says copper-colored metals will continue to be all the rage this year. Don't let yourself feel limited by this, though, because copper has more flexibility in design than you might expect. Consider copper accents in your dining room, kitchen, living room and even bathroom if you're feeling bold.
Shying away from cool metallic shades like stainless steel or iron, copper continues the trend of warmth in interior design colors.

Cover Your Home in the Latest Paint Colors
We've gone over all the biggest paint color trends of the year 2017. Design specialists, color forecasters and paint brands agree that shades of gray, green and purple are what's most popular right now, but don't underestimate blues, yellows or well-mixed reds and pinks. Instead of a drab white living room or chocolate brown bathroom, play to the strengths of each space and make them a bit more eye-catching. Neutral doesn't have to mean boring.
If you live in Fairfield County, CT or Westchester County, NY, call upon Shoreline Painting & Drywall to help repaint your house. Our family-owned and operated business has been around for 35 years now. On top of being fully bonded, licensed and insured, the painters on our team have been Fine Paints of Europe Certified.
Whether you need interior or exterior painting done, we offer free estimates so you'll know exactly what to expect. Turn to Shoreline Painting for the high-quality work you and your home deserve. Take a look at our testimonials page for a look at all of the positive feedback we've received, or contact us today to get started!
Recent Posts