September 18, 2015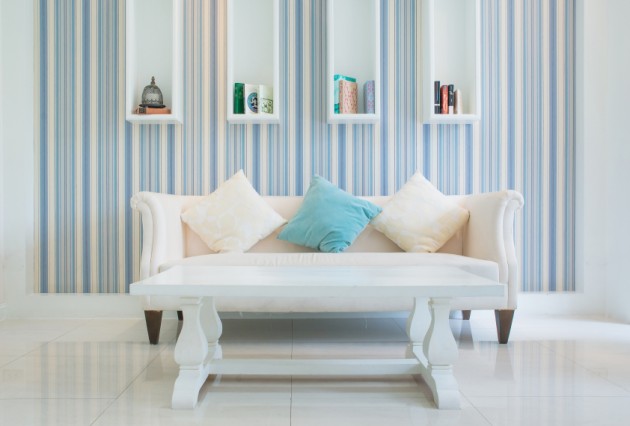 Your living room is the place where you spend time relaxing with family and friends, as well as entertaining guests. Just because your living area needs to be functional doesn't mean it has to be boring, too. In fact, there are several unique ways for professional painters to transform living areas using color and high-quality painting products. Try some of the ideas below:
1. Add Stripes to the Living Room Walls
Zigzags, waves and straight lines can all be created with only paint and careful surface application. When done by experts, the effect can be dramatic or subtle depending on the hues you choose, the thickness of the striping, and the amount of stripes. Often, only one wall is striped, rather than all four. This creates a natural focal point and instantly draws the viewer's eye.
2. Include Stenciled Designs or Murals
Would you like to add an image or suggestion of images to your walls without the need for any kind of wallpaper? Paint can be used to create impressive stencils or even murals. You can choose from the bold to the basic with outstanding results. This can completely changes the appearance of your living room, and makes a lovely addition to spaces that are large or cozy.
3. Enhance With Typography and Calligraphy
One of the newest ways to freshen up a living room area is by having it painted, and then overlaying the painted surface with a series of letters, numbers, sentences, phrases and more. This can be anything from the initials of your family to your favorite nature-motif poem. As with most high-level paint jobs, it's best to work with a professional so the typography looks exactly as you imagine.
4. Enrich With Faux Molding
Is your living room without any kind of magnificent trim? Is your home modeled in a contemporary way that eschews real molding? Paint can actually be utilized to make faux molding. Essentially, special stencils and designs give the expert painter a guide to paint what looks like molding, but is simply a different paint color. You would be amazed at how different walls can look when this is done well!
5. Color-Block for Added Motion
Rather than having someone paint your living room just one color, you can always choose to color-block walls or sections. Color-blocking adds motion and dimensions. Plus, you don't have to limit yourself to neutrals, especially if you aren't planning to relocate any time in the near future. Many people choose to color-block their living rooms using a strong tone, such as those in the red or yellow spectrum.
Thinking Outside the Living Room Walls
The next time you want to revamp the look of your living room, contact a professional painting company like Shoreline Painting. We can reliably and affordably transform the look of your home. Together, we can design a finished living room that will look incredible and fit in with your ideal décor. Best of all, you'll get a finished product that you'll love now and in the future!
Recent Posts