Experienced New Canaan, CT Home Painters
As with any home improvement service provider, experience is important when choosing a painting contractor. For more than 35 years, the professional painters at Shoreline Painting & Drywall, Inc. have been helping New Canaan, CT property owners transform the look of the interior and exterior of their homes. With an extensive portfolio consisting of more than 1,000 successful projects in the area, you can trust your painter from Shoreline Painting to perform quality work at an affordable price.
Choose Us for Your Exterior Painting Needs in New Canaan
The exterior paint job is one of the first things that visitors will notice upon arriving at your New Canaan home. Cracked, peeling paint creates a negative first impression and can even make your home a source of embarrassment for the rest of the neighborhood. Our highly skilled exterior painters know what it takes to transform the outside of your home with environmentally friendly products.
Our coating experts can also help you choose the ideal paint or stain, whether the surface is stucco, brick, cedar shakes or clapboard siding. We'll also execute the job with a level of craftsmanship that our competitors in the area cannot match.
High-Quality Interior Painting in New Canaan, CT
It's amazing what a fresh paint job can do for the inside of your home and with a professional painter, the process can be hassle-free! When it comes to interior house painting in New Canaan, nobody does it better than Shoreline Painting. Our accomplished interior painters follow an in-depth process that includes meticulous surface preparation before the first drop of paint is applied. This ensures a superior result that you'll be proud to display to your guests. It will also create a more hospitable living environment for you and your family. Our painters work quickly and efficiently and will go to great lengths to minimize disruptions to your lifestyle.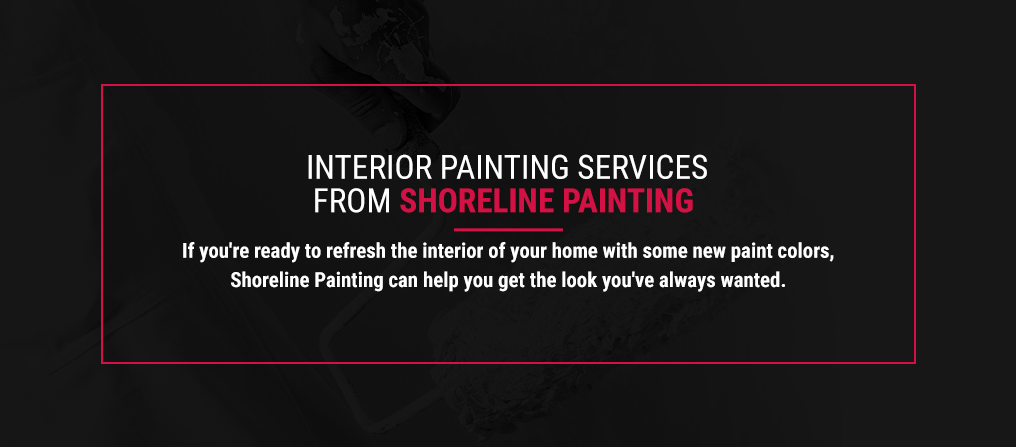 We're a Family Owned and Operated Painting Service
When you call upon the expert interior and exterior painters at Shoreline Painting, you're served by a family-owned and operated painter that makes customer satisfaction our top priority. We take pride in our work and we approach every job as if we're painting our own homes. As a Fine Paints of Europe Master Certified Painter, you can be confident knowing you're getting the finest, eco-friendly paints and an extremely high level of personalized service. Shoreline Painting is also fully bonded, licensed and insured.
Quality Work Through Meaningful Partnerships
When it comes to exterior and interior home painting, a job well done requires both technical expertise and world-class materials. The best painter can only do so much with poor-quality paint. Likewise, when expensive products are sloppily applied, the end result will still look cheap.
Our status as a Fine Paints of Europe Master Certified Painter is only one example of the many relationships we've developed over the years with some of the world's premier paint companies. If you're considering updating the interior or exterior of your home, we'll present you with several options and help you choose the best one for your needs and your budget.
To get a better idea of the quality of our work, please take a look at the samples of our interior and exterior painting projects displayed in our online portfolio. To see what we can do for you, also be sure to browse our testimonials provided by a few of our many satisfied customers.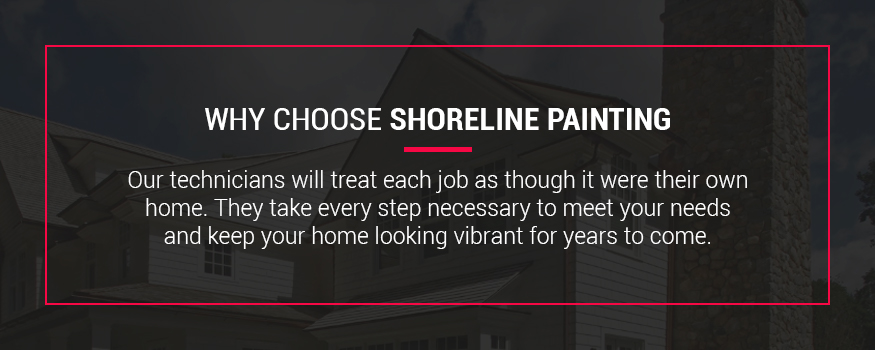 A Trusted Partner Every Step of the Way
At Shoreline Painting, we're proud of our reputation as leading painting contractors for New Canaan, CT's most demanding homeowners. It's a reputation we've earned one job at a time through fair pricing, transparent communication and, most of all, world-class results. We'll work to ensure every job we take on is completed on time and on budget, and that the finished product is something that truly shows off the beauty of your home.
With Shoreline Painting, even the most complex job in New Canaan, CT can be fast and easy.
Contact Us for a Free Estimate Today
Has the time come to paint the interior or exterior of your New Canaan, CT home? Don't settle for second best. Contact the experienced painting contractors at Shoreline Painting for a free estimate today. Call us at 203-302-1086, or fill out and submit our online contact form.
Home Painting Services in New Canaan, CT
Professional Expertise from Shoreline Painting
There's no better way to turn heads and boost home value than with a newly painted interior or exterior. If you're looking for professional painting services please contact us today.
Fairfield County Locations: