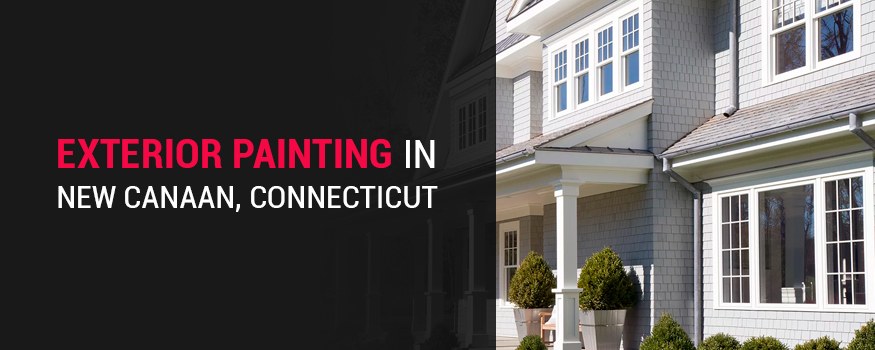 Exterior Painting Services in New Canaan, CT
When it comes to beautifying your home, place trust in the experts at Shoreline Painting.
As a Fine Paints of Europe Master Certified Painter, we bring elite craftsmanship, exceptional attention to detail and a commitment to quality that's translated as the painting-services gold standard in the wider New Canaan, Connecticut, area.
For over 35 years, we've dedicated ourselves to painting homes and businesses in Fairfield County, Westchester County, The Hamptons and beyond as if these buildings were our own. Let us renew your home with our professional exterior painting services.
Advantages of Having Professional Exterior Paint Work
You can expect the following when working with painting contractors and servicing companies like Shoreline Painting:
Superior workmanship: Assure an expert's touch across all stages of repainting your home's exterior brickwork, siding, stucco, shakes or paneling, plus guidance on maintaining the paintwork after the job.
Premium products: Our near-obsession with exceptionally finished home painting involves only premium-grade industry painting products, equipment, priming and finishing techniques, as well as leading eco-friendly paints and products.
Unparalleled protection:

 Your home's exterior paint is its first line of defense against the elements. Ensure it endures across the years — and still looks beautiful — by partnering with pro painters using only high-quality applicators, paints, stains and ancillary job materials.

Unbiased consultations:

Exterior painting contractors will consult with you before, during and after your home's paintwork so you feel confident and comfortable in the work done. At Shoreline, we work with you to nail your vision, plus offer free estimates for minimal surprises at the end of the job.

Peace of mind: Your home's external finishes will be one of the first things visitors take in. Wow them as soon as they arrive at your front door with premium paint and detailing that brings your home back to life.
Why Choose a Professional Exterior Painting Service?
There are several situations where a professional exterior painting company in your area will deliver superior results.
1. Ornate Home Architecture
A home's architectural style greatly influences how approachable its paint job will be.
For example, a multi-story, Queen Anne-style Victorian will require more care and diligence compared to a single-story, clapboard-siding ranch — which, in turn, will vary from a mid-sized bungalow with shake and brickwork.
Analyze the shapes and dimensions of your home as well as its exterior materials to understand when a professional is needed.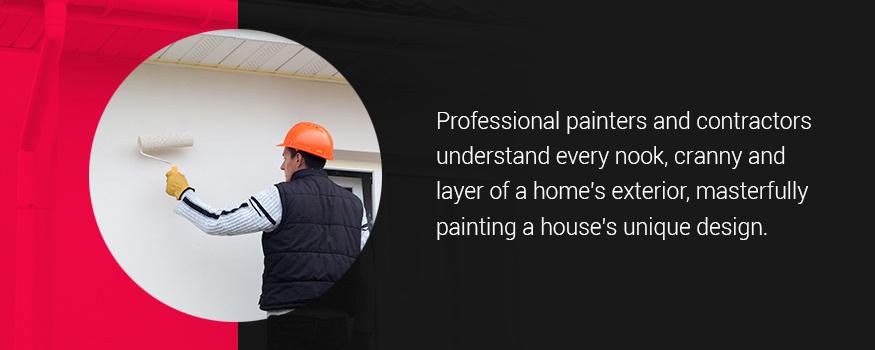 2. Delicate Home Detailing
Professional painters and contractors understand every nook, cranny and layer of a home's exterior.
This knowledge translates into masterfully painting a house's unique design a homeowner may not know how to approach, including painting:
Dormers
Gingerbread patios
Columns and beams
Turrets
And more
3. Lot Terrain and Slopes
The vast majority of homes will sit atop flattened and shaped lots conducive to setting up a safe painting site.
However, even finished yards and lots involve an expert's eye to perfect the workspace and properly position all equipment as well as assess obstacles across landscaping, fencing, plants, home wiring and more.
4. Extensive Preparatory Work
As much as 50% of a home painting job is spent on preparatory work. That includes but isn't limited to:
Initial exterior and yard site analysis.
Home material analysis, examining for peeling, chipping, alligatoring, wood rot and mildew.
Window and windowpane analysis, identifying cracks and gaps in trim and caulk.
Sanding and cleaning home exteriors before any primer, paint and stain application.
5. Necessary Professional Equipment on Hand
Painting your home's exterior involves more than a few brushes and a can of paint and primer.
Professional painting companies have a full suite of equipment in stock and ready to use, meaning you don't have to worry about expensive rentals or even purchasing a series of one-and-done tools when you decide its time to repaint your house.
Consider the following equipment involved in properly painting your home's exterior. How many do you have on hand?
Ladders or lifts
Scaffolding tower sets
Preparatory external home cleaning supplies
Power washers
Chemical cleaning agents and removers, such as trisodium phosphate
Power sanders
Paint-friendly caulk
Paint brushes for different types of paint
Paint spraying equipment
Paint-specific primers
Protective coverings, such as drop cloths and tarps
Personal protective equipment (PPE), particularly for covering hands and eyes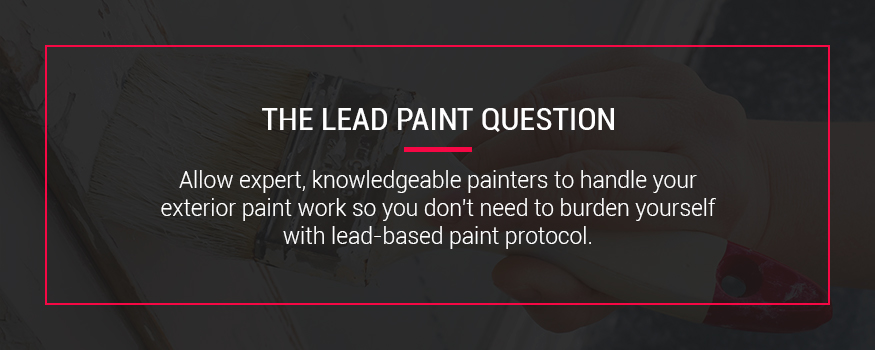 6. The Lead Paint Question
Homes constructed before the mid-1970s commonly used lead-based paints. Painting your home yourself requires understanding how to safely remove and discard lead-based paint that likely covers your home's exterior if built before 1980.
Allow expert, knowledgeable painters to handle your exterior paintwork so you don't need to burden yourself with lead-based paint protocol.
The Shoreline Difference
There are many painting companies out there. Few of them meet the standards of service, support, craftsmanship and expertise of Shoreline Painting — and have the testimonials to prove it.
Our commitment to unparalleled exterior home painting work is proven by the following:
An exclusive Fine Paints of Europe Master Certified Painter membership.
A complete suite of contracting and consulting services before painting, from exterior home condition inspections to color consultations.
An extensive portfolio showcasing our work.
Environmentally friendly product availability.
Over 35 years of honing our craft in the premium exterior and interior paint industry.
Our painters and consultants are ready to tackle common and unique home surface materials alike, including:
Brick
Stucco
Stone and masonry
Siding
Engineered wood
Shingles and shakes
Plus, Shoreline Painters also offers a specialty painting service suite rare among other painting companies in the area — and each requires additional expertise.
Venetian plaster

Garage floor coatings

Drywall service

Home paint care and maintenance

And more
Contact Shoreline Painting for Exterior Painting Services in and Around New Canaan
As a fully bonded and licensed Fine Paints of Europe Master Certified Painting company, Shoreline Painting brings an artisan's approach to every home we paint, every single time.
When you have a vision for your home's exterior, trust a seasoned, local painting contractor in New Canaan that pairs top equipment with time-tested expertise. We're also available for homes and businesses throughout Fairfield County, Westchester County, the Hamptons, New York City and beyond.
Explore our portfolio curated across 35 years in business. Then contact us to set up a free estimate for exterior painting services for your home.
Exterior Home Painting in New Canaan, CT
Professional Expertise from Shoreline Painting
There's no better way to turn heads and boost home value than with a newly painted exterior. If you're looking for professional exterior painting services please contact us today.