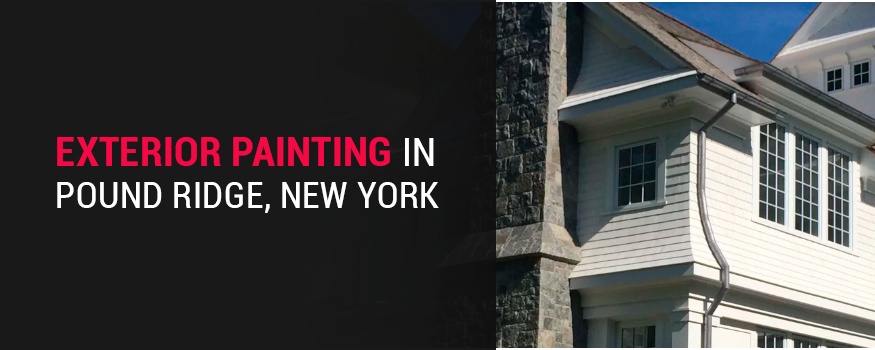 Exterior Painting Services in Pound Ridge, NY
If you've spent the last few years coming home to peeling, cracked or faded paint, you're probably due for a refresh. The coat of paint on the outside of your home is a significant aspect of its overall appearance, and it's easy to get used to one that doesn't live up to its potential.
Even if your paint is still in decent condition, a repaint can improve it in several ways, but only if the paint job is performed by trusted, professional painters. Hiring Shoreline Painting as your professional exterior painting service in Pound Ridge ensures quality work and a result you'll love for years to come.
Advantages of Exterior Painting Services from Shoreline
Our exterior painting services can help you get a new coat of paint on your home stress-free. A revamp like this provides several benefits, including: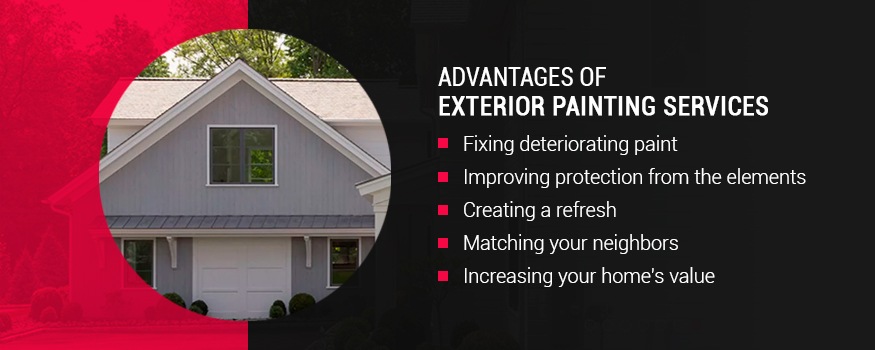 Fixing deteriorating paint: One of the most common reasons to repaint your home is to address a peeling, flaking or faded coat of paint. You can breathe new life into your house, giving it a modern and vibrant look that accurately reflects your current tastes.
Improving protection from the elements: Whether your home is at risk for harsh weather, mold and mildew, extensive sun exposure or other environmental concerns, modern paint formulas can hold their own against damage. If you're unsure what you need, our painters can help.
Creating a refresh: You don't always need a worn paint job to justify repainting your home. Sometimes, you simply want something new. Revitalize your house with a new coat of paint to freshen things up if you're ready for a change or want a different color on your siding.
Matching your neighbors: Some neighborhoods and homeowner's associations have strict requirements about how residents' homes should look. They may want your house to have a certain color or look, and repainting allows you to meet that request.
Increasing your home's value: When you repaint your home, you create more than just an aesthetic change. You can also increase the sale price by about 1-3%, which is significant when you're looking at high-value homes. The paint job provides a benefit that lasts long after it dries.
Working With Our Professionals
Of course, it takes a certain amount of skill to provide the paint job that creates those kinds of results. That's where the pros come in. Choosing to work with Shoreline offers high-quality work and many other benefits.
These benefits include:
Exceptional results: As with most tasks, leaving it to a professional offers better results. Our professional painters know the techniques that will look best and understand what makes the job go smoothly. Working with the experienced professionals at Shoreline gives you the benefit of years of experience and training. For examples of what our team has created, check out our portfolio.
Appropriate prep: Preparation is a vital part of exterior painting that sets up the canvas for the work. Our professional team knows how to get your home ready, including cleaning dirt and grime, removing imperfections and caulking any necessary areas.
No interruptions: Hiring the right pros gets you out of a time-consuming project that could bring your regular schedule to a halt. We can take care of the tough stuff while you lead your life like normal. Keep going to work and spending time with the family because we'll have the painting covered.
Access to tools: Most people don't have scaffolds and ladders lying around, but we do. We also have large-scale paint tools, power washers and other equipment to help speed up the job and create a safe environment.
Why Choose Shoreline Painting
If you're in the market for exterior painting contractors in Pound Ridge or the surrounding areas, Shoreline Painting is the place to go. Our painters will treat each job as though it were their own home. They take every step necessary to meet your needs and keep your home looking vibrant for years to come.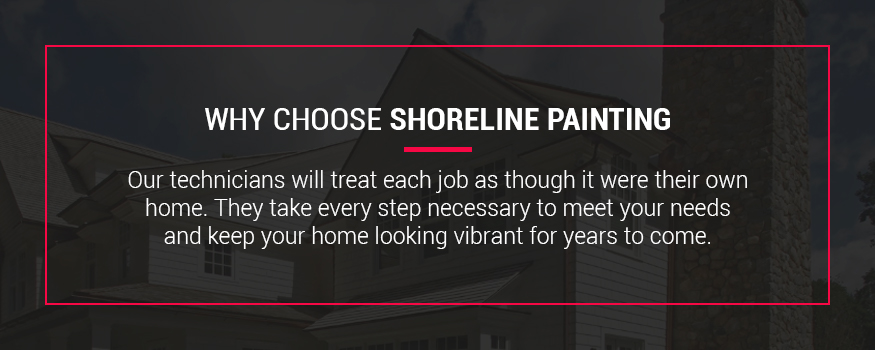 So what is it about Shoreline that allows us to reach such high-end results? Our expert staff is made up of trained and certified painters, and we've been in business for over 35 years. All that time working on homes has helped us understand aspects of:
The demands of the New York climate and its effect on home exteriors
Color matching
Advanced painting techniques that create quality results
Efficient project management
In addition to the skills that come with decades of work, Shoreline Painting has also received the honor of being named a Fine Paints of Europe Certified Master Painter. What that title signifies is that we provide exceptional service and results with the high-quality paint choices offered by Fine Paints of Europe. Their exterior paint options include eco waterborne and traditional oil options. Finishes include Satin, high-gloss Brilliant and super high-gloss Brilliant.
Many homes have specific needs due to their place in the environment. Our experts can help determine if you need paints built for durability, ultraviolet resistance, mold and mildew resistance or some other consideration.
The Process
When working with Shoreline Painting, our team sticks to a process we've refined over the years to get exceptional results. Our methods are as follows.
The first step is to put down drop cloths to protect the landscape, concrete or nearby structures.
Secondly, we start preparing the surface. We prime areas that need it, fill up the holes and sand away imperfections to create a smooth area.
Next up we clean the siding. We may use a power washer or other methods to remove dirt, grime and mildew stuck to the sides. This step helps us get the surface ready for paint to adhere to. Additionally, we caulk up any areas that need it.
With prep work done, painting can begin. Our expert team treats each project with extreme care while working efficiently.
The last step is to clean the area. We'll remove our tools and clean up any paint leftover. We'll also go over the project with you and make sure everything is up to par before we leave.
Choose Shoreline Painting for Exterior Painting Services in Pound Ridge, New York
If you're repainting a home, getting a quality result is probably at the top of your list. After all, your home is likely the most valuable thing you own. You see it every day, and it is a reflection of you and your family. At Shoreline Painting, we strive for excellence in every single project. Keep your Pound Ridge home looking its best with services from Shoreline.
To see what we can do for you, contact us today for more information. We'll happily offer a free estimate and answer all your questions.
Exterior Home Painting in Pound Ridge, NY
Professional Expertise from Shoreline Painting
There's no better way to turn heads and boost home value than with a newly painted exterior. If you're looking for professional exterior painting services please contact us today.