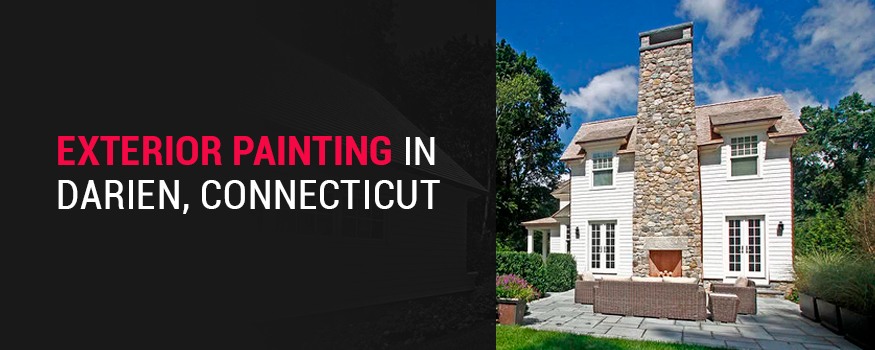 Exterior Painting Services in Darien, CT
Are you getting tired of seeing the same old paint job on your home every time you get back from work? Trying to sell your home and want to increase its value? Is your home's exterior paint starting to fade or chip? It's time to reach out to an exterior painting company in Darien.
With a fresh new paint job on the exterior of your home, you can receive several benefits, whether they be visual, financial or protective. Find out some of the top advantages of painting the exterior of your home, why it's best to hire a professional to paint your home and which exterior painting contractor in Darien you should turn to.
Advantages of Having Exterior Paint Work
One of the best investments you can make in your homes is an exterior paint job. It can improve the financial value of your home and provide priceless personal value. If you're thinking about painting your home's exterior, take a look at the best advantages associated with it: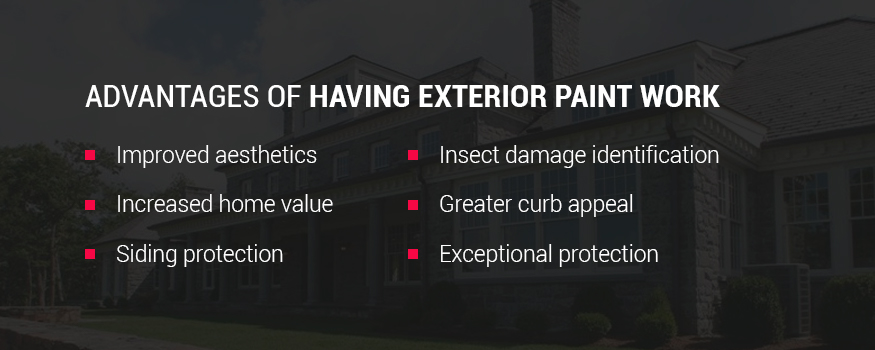 Improved aesthetics: When you find the perfect color for your home, you'll love returning to it every day. The new color can better match your tastes and reflect who you are as a person.  If you've gotten used to the old color of your home, you'll be surprised to find just how much livelier and exciting your home can appear with a fresh coat of paint, making you see it in a whole new light.
Increased home value: A freshly painted home leads to increased home values. When an appraiser comes to value your home, choosing to have a fresh coat of paint on your house is one of the most financially savvy choices you can make. In fact, exterior paint can raise your house's value, with one study showing that painting the exterior provides a 51% return on investment. This return helps you make back your initial painting costs and even profit from it at times.
Siding protection: A fresh coat of exterior paint can help you increase the lifespan of your siding, no matter what material it is.  Often, siding made out of vinyl or wood needs to be replaced, costing you hundreds to thousands of dollars. A new coat of paint on the siding can extend the siding's lifespan for a few years, helping you save money in the long run.
Insect damage identification: Termites can do major damage to wood-based homes if they aren't dealt with. Painting experts can help you identify termite and other insect damage on your siding, letting you know if you need to bring in someone who can help you remove the pests. You will get a fresh coat of paint, and you'll also stop an infestation before it can do serious damage, potentially saving you a great deal of repair money.
Greater curb appeal: Whether you're trying to sell your home or become the talk of the neighborhood, you can add to your home's curb appeal by using exterior painting services. When you improve your home's curb appeal, you're setting the tone for anyone's first impression of your home. An attractive paint job can cause your house to stand out from the rest in your neighborhood, making it appeal to potential buyers and drivers simply passing by.
Exceptional protection: High-quality paint can help better protect your home from the elements, such as wind, rain, snow and sleet, as well as fire and insects. The best paints will help to prevent these forces from harming your home, providing a shield against these potentially damaging effects. For example, a new coat of paint can prevent moisture damage, saving you the costs associated with repairing mold and mildew damage.
Why It's Best to Choose a Professional Exterior Painting Contractor in Darien
With all of the benefits of paintwork, you might be ready to head out and paint your house yourself. While the ambition is admirable, the final product might fall a bit short of your vision. A professional painter is almost always the better option, as they know proper painting techniques and have experience selecting the type of paint that'll best suit the needs of your home.
Expert painters will take various characteristics into account as they help you determine a paint that's ideal for your house. A professional lets you know all about important paint characteristics from the very beginning, communicating everything from the paint's mold resistance, durability and ease of application to its UV radiation resistance and environmental friendliness. With all this knowledge on your side, you can find paint that you're going to be happy with for a long time.
In the actual painting process, professionals will know how to paint your home properly, ensuring high quality and superior protection. Besides just offering a great looking paint job, the best painters will also help improve your home's exterior by sanding out imperfections, removing grime and completing several other smaller maintenance tasks you might not have noticed yourself. All of the advantages that a professional provides should make choosing an exterior painting company in Darien a no-brainer.
Top Exterior Painting Contractors Darien, Connecticut
The first place you should go to for professional exterior painting services in Darien, Connecticut, is Shoreline Painting. Homeowners in Darien regularly turn to Shoreline due to our proven track record. We've been in business for over 35 years and are proud to be a Fine Paints of Europe Certified Master Painter.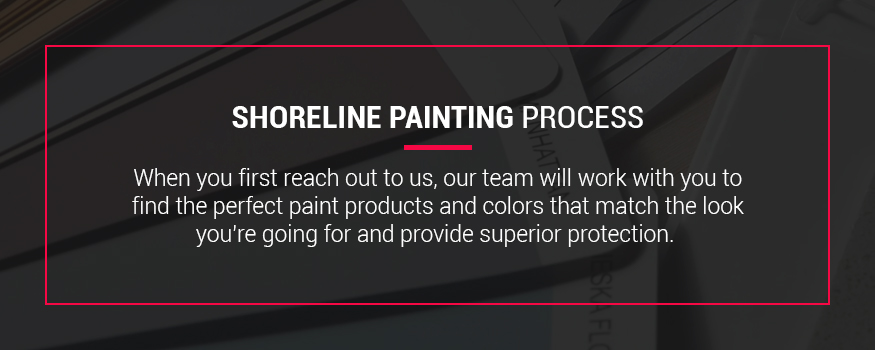 Overview of Painting Process
Shoreline spares no detail when it comes to the painting process. When you first reach out to us, our team will work with you to find the perfect paint products and colors that match the look you're going for and provide superior protection. In this time, we'll go over the surface materials of your home, determining if it's made out of clapboard siding, cedar shakes, brick or stucco, among other materials.
After selecting a paint, our team prepares your home for painting. Going over the surface of your house, we fill in areas that need to be caulked, remove potentially damaging mold, mildew and grime and find areas that have imperfections so we can correct them. A great paint job starts with a great surface, so we ensure that your home is in top form before we begin painting.
Finally, we start the painting process, turning your dream into reality.
Ready to Get Started With the Best Exterior Painting Company in Darien?
As one of the leading exterior painting companies in Darien, we're prepared to blow you away with our painting services. We treat every home that we paint as if it were our own home, providing only the best paint job you could ever receive in Darien. Contact us today to get started transforming your home.
Exterior Home Painting in Darien, CT
Professional Expertise from Shoreline Painting
There's no better way to turn heads and boost home value than with a newly painted exterior. If you're looking for professional exterior painting services please contact us today.