January 28, 2019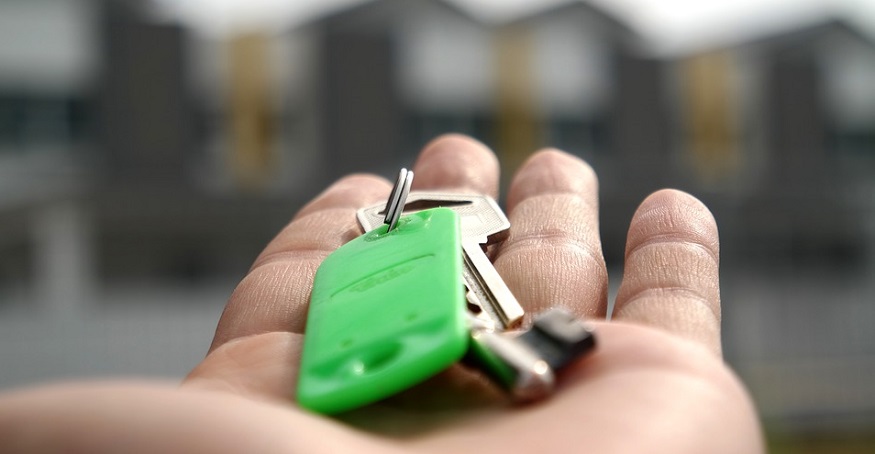 Moving into a new home can be overwhelming, between packing, cleaning, organizing and unloading. But personalizing your new home and updating everything to suit your unique tastes is a crucial step in transforming your house into a home. With a fresh coat of new paint, you can update and modernize your surroundings and incorporate your personal style into the space.
New paint can also make your house feel clean, airy and welcoming. While repainting is an important step for new homeowners, you should decide whether to paint before you move in or after everything is placed and unpacked.
Reasons to Paint Before Moving Into a New Home
Put your personal stamp on your new home and begin the next phase of your life by painting your new home before officially moving in. Painting before settling into your new house is ideal for many situations — it can minimize stress, save time and finalize your decor decisions prior to moving in. By painting your new home before moving in, you can also benefit from:
Not Moving Furniture Twice: Properly prepping your painting area is crucial for protecting flooring, fixtures and furnishings. But if there's no furniture in your home, you can ensure it doesn't get damaged or ruined.
Adding Needed Personality: A house doesn't truly feel like a home until you've added your personal touch. One of the easiest and most cost-effective ways to insert your personal style is by painting your new walls with your favorite colors.
Saved Time: Having to move furniture to prep and paint can be time-consuming and difficult. But by painting before you officially move in, you can save much needed time that can be spent painting straight away.
Labor Savings: By having an empty home, professional painters can more easily maneuver from room to room, which can save time completing your painting project and save on labor costs.
Decor Inspiration: If you haven't bought furniture for your new home yet, selecting a new color palette can help you decide which colors and pieces will best work in your space and accentuate your taste.
New Home Painting Ideas
Playing with fun and vibrant colors can be an exciting lift to your new home while showcasing your unique design tastes. However, choosing the right colors and combinations can be challenging. Too many contrasting colors can make your home feel cluttered and random, while a single color featured in each room can feel dull and uninspired.
Crucial tips for choosing complementary paint colors include creating flow from room to room and knowing how each hue can accent your existing furnishings and accessories. Also, consider the function of each room and how a fresh color can improve the look, feel and functionality of the space:
Choose a cool, welcoming color for your kitchen that invites guests and stimulates hunger. Explore shades of red, green, yellow and white.
Explore the wide range of whites available. Don't settle for a pure white, though — find shades of cream, ivory and alabaster to accentuate your fixtures.
Make your dining room the life of the party by incorporating bold and bright colors like yellows, blues and deep greens.
Peruse the spectrum of colors available to find hues for your living room that best encourage lively conversation, creativity and relaxation. The ideal colors for living rooms are soothing neutrals, earthy greens and blues, or energetic reds and yellows.
Create a master bedroom and bathroom you can't wait to sink into. Find subtle blues, greens and creams.
Reasons to Hire a Professional to Paint Your Home
So you've decided to repaint your new home before moving in. Why should you hire a professional painting company when you can buy paint and brushes at your local hardware store? By trusting a professional with your painting needs, you'll discover the following benefits:
Extensive training, expertise and industry experience
Professional tools and equipment for a pristine finish
Superior results without streaks or dripping
With the right tools, experience and teams, professionals can complete your project much faster
Professional painting companies are licensed, trained and bonded
Contact Shoreline Painting Today
Moving into a new house can be stressful — but repainting doesn't have to be when you trust the experts at Shoreline Painting. We'll handle all of your color selection and painting needs. Located in Norwalk, CT, we specialize in painting home interiors and exteriors throughout the Fairfield County, CT, and Westchester County, NY, areas — and we can help with all of your repainting needs. We'll work closely with you to find hues that best suit your style and then complete your project in a timely and efficient manner. You'll be able to settle into your new home quickly.
Schedule an appointment today by calling 203-302-1086 to speak to one of our team members, or complete our online contact form to request a free project estimate.
Recent Posts