October 30, 2014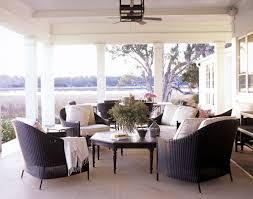 Outdoor rooms have become one of the hottest home trends for good reason. Expanding living areas to the outdoors not only increases your entertaining square footage, it also offers a place to enjoy the calm and tranquil solitude that is part of nature. If you want to take an ordinary porch and make it a room, follow these expert tips.
Create Functional Space Outside
Each of the rooms in your home is defined by the walls that surround it. These walls enclose areas so they can be more intimate and purposeful. Whenever you begin the task of creating an outdoor living space, your first step will be building walls and creating visual heights.
Define the Space
Unless you build small fences around your patio and enlist exterior house painting services to stain them, you need to get creative with alternative walls. Tall potted trees or bamboo screens can create height and close off your living area just the same. From there, you can add an arbor or trellis to hang a strand of twinkling lights that will create romantic ambiance, while secluding your outdoor space.
Furniture
After you've built four walls and defined them, it's time to decorate with furniture. Why not refinish old tables and chairs with the latest bold and trendy hues from a painting company? Replace torn and tattered cushions and perhaps hang a hammock in between the trees. If your climate allows, you might find adding an outdoor fireplace or kitchen further enhances your living area.
Decorative Accents
To create the same feel as an indoor room, your outdoor living space should include decorative accents, such as an outdoor sisal rug and several glass hurricanes that house an array of different sized candles. You can add a few small flowering potted plants on your gathering table to create interest. Be sure to shop for flea market treasures that add charm to your outdoor room, such as old statues, French watering cans and even mirrors that can be hung on your walls to reflect the enchanting candle lights.
If you're interested in learning more about how exterior and interior painting can increase the value of your home and expand your living areas, please contact us and speak to one of our Connecticut painting consultants.
Recent Posts