April 22, 2015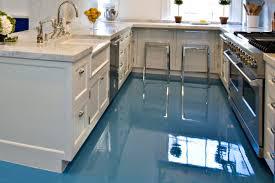 Though it may not be the first design element that comes to mind when you think of interior house painting, your flooring is a major aspect of the ambiance of your home. If you're looking to give a space a fresh new look, painting your floor might be just the ticket. Whether you have hardwoods, concrete or something in between, a few coats of paint by interior painting contractors can be a stylish, yet inexpensive, way to refresh a room and give it a unique spin. Here are just a few reasons you should consider painting the floors in your home.
Instantly Upgrades a Room
Improving the flooring in your home can provide a huge return on your investment. If you have older floors that could use a boost, but don't want to spend a lot on the project, painting could be the perfect alternative to replacing your floor. The best part is most any type of flooring can benefit from a paint upgrade. Hardwoods, concrete and linoleum are all suitable surfaces to paint, giving your floor a facelift and turning shabby into chic.
Creates Interest and Texture
By painting your floor, you instantly create a focal point in your room. The color options offered for interior house painting are endless, ensuring you find just the right hue for your space and design style. To add even more interest to a painted floor, consider painting a pattern, rather than a solid shade. Stripes, zigzags and plaid offer a textural feel to the floor, contrasting with other patterns in the room and providing depth to the design.
Gives a Boost to Smaller Spaces
Just as the right paint color on the walls can make a room look larger, painting the floor can do wonders for giving a small space a size boost. While painting the floor in any room offers a unique appeal, opting for this flooring choice in smaller areas makes the space really pop. Try it in bathrooms, entries, mudrooms, pantries and any other room that is not as large as you would like.
A Quick, Low-Maintenance Option
Replacing flooring can be a time-consuming process that could take weeks to complete. Painting your floor, on the other hand, is a much faster project to get finished. Once your paint is dry, you can once again enjoy the space rather than avoiding the area for an extended amount of time due to a remodel.
To speak with one of our professional interior painting contractors for more ideas and information on painting home floors or other interior painting services, please contact us. Shoreline Painting and Drywall has been painting homes in the Stamford, Connecticut, area for more than three decades.
Recent Posts