July 31, 2020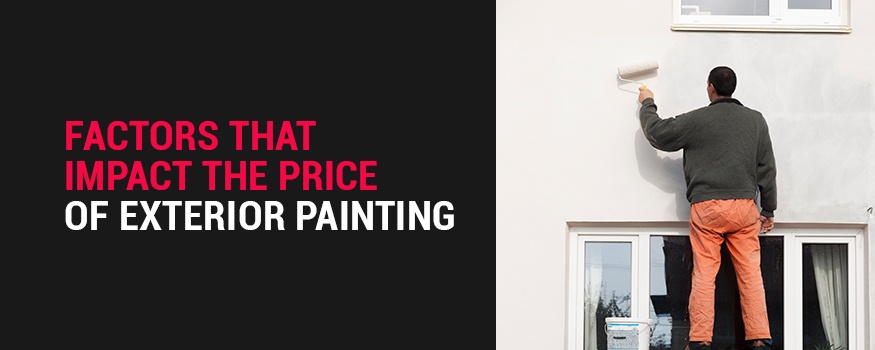 Having a professional paint the exterior of your property could boost your home's curb appeal. When you trust the expert team at Shoreline Painting to apply a fresh coat of color to your house, we first provide you with a free estimate. During this appointment, we'll inspect your home's exterior and figure out how much the project will cost.
How much do painters charge to paint a house? Besides the condition of your property's surface, we also base our estimate on the project's complexity. Even though we have the experience to paint any home, if yours has complex elements, we may need to hire more painters or use specialized equipment. We consider the following factors to figure out our professional exterior painting cost.
The Prep Work
Along with applying a fresh coat of paint to your home's exterior, we also clean it and prepare the land around it. In preparation for the new color, we'll power wash your property, repair any holes in the trim and prime the paint's surface. Here are some ways we might get your house ready for paint, depending on its current condition:
Patching: We'll fill all nail holes and cracks to make sure the surface is smooth. Over time, patches may develop on the surface of your siding because of uneven paint absorption or chips. If there are chips on your house's exterior surface, we can apply a few layers of primer to eliminate these rough spots.
Making repairs: You should fix your rotten or loose siding before you paint your house to ensure a smooth finish. Expect to pay more money if you have to order replacement siding materials. We'll replace the trim around your windows and recaulk them as necessary.
Scraping and sanding: We apply mist to your plant leaves, water the lawn and lay fabric drop cloths on your landscaping to prevent debris from harming your property. We'll use protective equipment, such as masks and a respirator, as we sand your siding.
Pressure wash: Before we paint the exterior of your house, we'll pressure wash your property to ensure there's no dirt or debris on the surface of your siding. You may want to pressure wash your house yourself to save money, but we'll clean your exterior living space with the proper precision to maintain the integrity of your siding, windows and frames.
Priming: If you're going to change the color of your house, we need to add a layer of primer. We'll apply the right amount, depending on whether we're altering your house's color to a darker or lighter shade.
Caulking: Once we've cleaned and primed your surfaces, we'll caulk the gaps around the window frames, door frames, molding and fascia boards. If you need us to dig out old caulk and residue, we'll do it for an additional cost.
Cleaning: After each workday, we'll clean up after ourselves and take our equipment with us. We'll leave your property just as we found it, but with a fresh coat of paint on your exterior surfaces.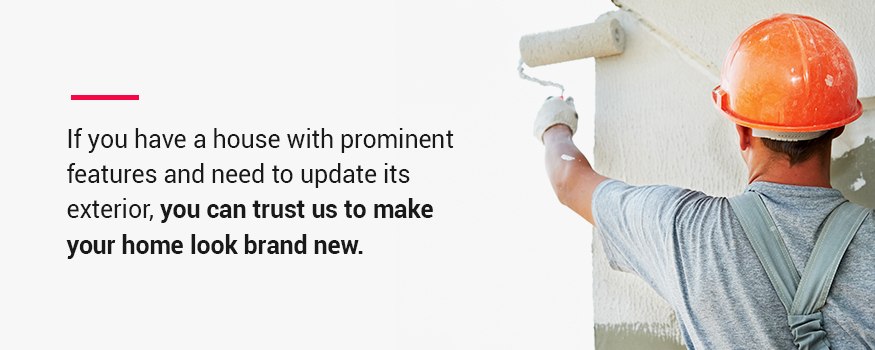 The Style of Your Property
If you have a house with prominent features and need to update its exterior, you can trust us to make your home look brand new. Many amateur painting companies or contractors will avoid an exterior paint job for a sophisticated residence because they're afraid of messing up the details of your property. You can have confidence in our ability to handle any project, whether your home has four simple walls and a roof or large turrets and sharp gables.
We figure out the price of painting your house based on the following factors.
1. The Structure of Your House
How many stories your home has: Our professionals have extensive experience working on ladders, but with more stories comes more hard-to-reach areas. If we need to climb onto your roof or use a boom lift or other specialized equipment, we will factor these additional resources into the project's cost.
Architectural style: If you have an elaborate, two-story Victorian house, your property would need more care than a one-story ranch would. We'll make sure we have all the different types of paint that the job requires to color all the crevices — including the trim, gutters and millwork — that could use some extra care. We may also need to hire more workers to help us complete the job if it involves intricate details that are hard to reach.
Your house's age: If your home was built before 1978 and you haven't updated it, there could be lead paint on your property's surface. You would have to hire a professional to remove your old paint before applying a new coat if we discover lead in the old materials.
2. The Quality of Your Siding
If extensive parts of your property's siding are falling apart, we recommend replacing the siding instead of trying to repair it and then painting over it. In that case, a contractor would need to improve the siding. Depending on the type of siding you have, we might have to pre-treat it or sand the surface of your home before painting. Examine your home's siding material to understand how much you'd have to pay:
Engineered wood: Composite wood siding usually comes with a primer on it already, so if you're painting it for the first time, we might be able to skip that step. It also won't require as many coats of paint as hardwood siding, so you won't have to pay as much money to paint engineered wood siding as you would for authentic wood.
Fiber cement: Siding made from fiber cement is usually already painted when you install it. Since it often comes pre-primed for custom painting, it's typically less expensive than brick and other siding materials.
Aluminum: Over time, aluminum siding tends to fade and become chalky, so you'll have to get it repainted. Even though it requires a new coat every once in a while, it uses less paint than wood and other materials, so the job won't be as expensive.
Brick: This material takes less paint and time compared to wood siding, so it's slightly more expensive than engineered wood but a little less of a cost than natural wood.
Wood: We would have to remove the old paint, sand and prime wood siding before applying a new coat. It also requires at least two coats of paint if it's in poor condition.
Stone: If you have stone veneer siding on your home, it takes to paint in the same way that fiber cement does because it contains the same material. However, it requires a little more primer, and then it has to be painted.
Vinyl: We could easily paint vinyl siding without that much pre-treatment if you want to change its color. We would have to clean the siding and then coat it with an adhesive primer before applying two coats of acrylic latex paint.
Exterior concrete: If your home is one of the rare homes with exterior concrete walls, you may want to change the color. Concrete requires a primer to prevent peeling, and it takes more paint than other siding materials.
Stucco: Stucco is the most costly because it requires a unique process for painting it. We would repair the surface before painting it and treat it with specialized materials.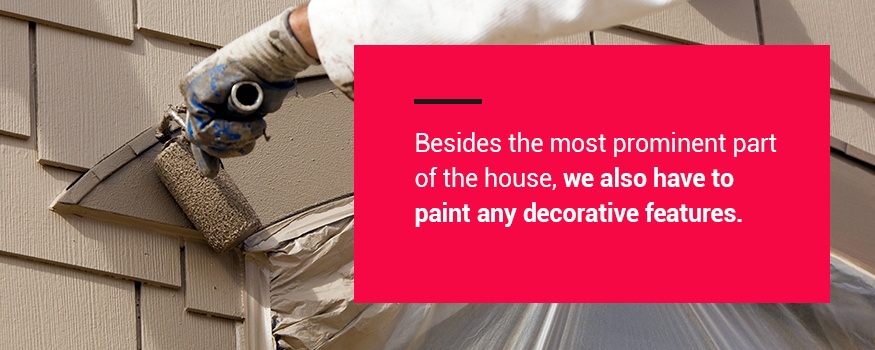 3. Decorative Features Other Than the Siding
Besides the most prominent part of the house, we also have to paint any decorative features. Keep in mind that if you're painting them at the same time as your siding, we'll include these elements in the estimate:
Painting the shutters or blinds around your windows
Adding a fresh coat of paint to the exterior door and frames surrounding them
Smoothing the surfaces of the gutters and downspouts of any material
Roof overhang, including the fascia, soffit and eaves
Painting the molding or trim around your doors and windows
Adding a new layer of color to a garage of any size, including the door
Staining the deck in your backyard.
The Location of Your Home
We specialize in the region of coastal Connecticut and New York, and we can find what your paint job calls for in our local area without the need for shipping materials. Generally, these factors go into the price of your exterior painting project based on your home's location:
Labor costs: If you live in an area where the cost of living tends to be more expensive, the average cost to paint a house professionally may be more where you live. You can expect to pay a fair price for labor and materials.
Climate: The typical weather conditions in your local area can affect the price you pay for the painting. Coastal environments tend to be more humid or experience rain regularly. In that case, we might have to use high-quality, moisture-resistant paint that can withstand the elements.
Costs of local material and equipment delivery: Typically, the price of the components you pay depends on their local area value. Since we're local, we can reasonably provide the materials based on how we get them. You don't have to pay extra to ship anything to your house.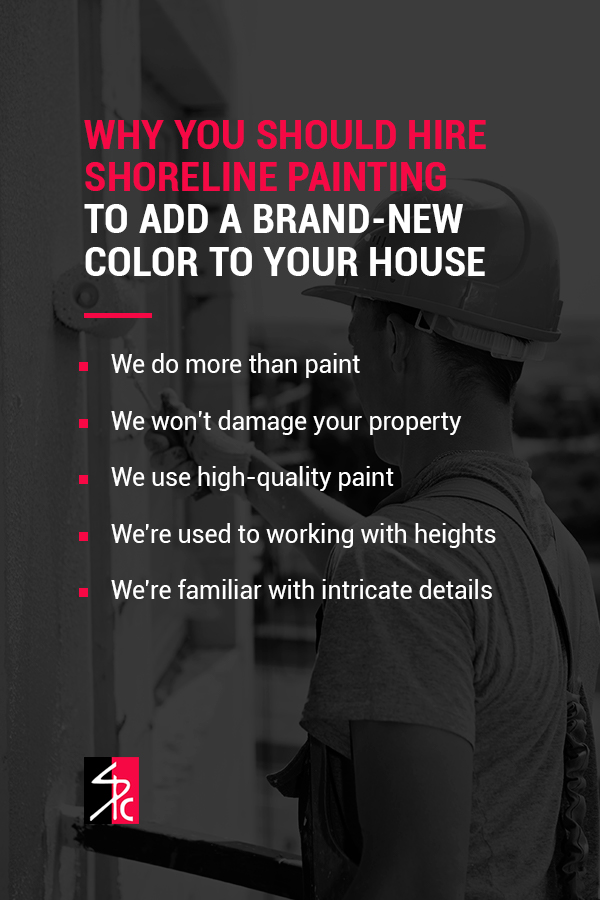 Why You Should Hire Shoreline Painting to Add a Brand-New Color to Your House
Even though you might think that painting the house yourself will save you money, you could pay more than you expect to do it yourself. At Shoreline Painting, our professional painters have the experience and equipment needed to enhance your home's visual appeal.
As part of our professional exterior painting services at Shoreline Painting, we examine your house and give you a fair estimate of how much the job will cost. During the project, we take all the necessary precautions and clean up after completing our work for the day. You can save time and energy by entrusting the project to us, because:
We do more than paint: As part of our exterior painting services, we also prepare your house for the painting to ensure a smooth finish. Upon arrival, we'll inspect your home for any needed repairs, such as nail holes or trim that we would have to recaulk. We'll also wash the surface of your property to prime it for painting. To make sure the painting process goes according to your preferences, an on-site manager supervises the entire process each day that our team is on your property.
We won't damage your property: If you have sensitive plants or landscaping around your house, we'll practice the utmost care as we prepare to paint your home. We'll bring drop cloths, paper coverings and netting for your shrubbery and lawn furniture, so we don't get paint or debris on your property. At the end of every workday, we also clean up everything as if we were never there, saving you the headache of cleaning up after our work.
We use high-quality paint: At Shoreline Painting, we only use high-quality paint on our houses. Our inventory of color is eco-friendly, and it makes your property resistant to damage caused by weather, such as UV radiation and moisture. We also know which paints will last for a long time, depending on your home's siding material.
We're used to working with heights: Exterior home painting requires plenty of ladders, high heights and a steady hand. After years of experience standing on ladders, our professional team can withstand unstable ground and provide a high-quality result for your investment.
We're familiar with intricate details: If you live in a sophisticated, multi-million-dollar property, we have experience painting the decorative components that make your home unique. As professionals in Fairfield and Westchester County, we have experience painting both intricate mansions and simple one-story cottages. You can trust our competence as we refresh your house's exterior with precision and attention to detail.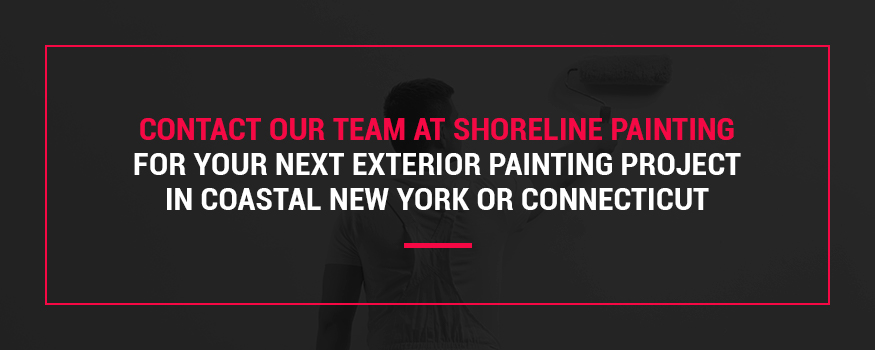 Contact Our Team at Shoreline Painting for Your Next Exterior Painting Project in Coastal New York or Connecticut
A brand-new coat of paint can increase the resale value of your home. We provide exterior painting for your home in Fairfield County, Connecticut, or Westchester County, New York. Start with our free, accurate estimate based on your house's architectural features and how much work we'd have to do to enhance its aesthetic. Contact us online or call 203-302-1086 for more information about our exterior painting services in your area.
Recent Posts