The Most Trusted Home Painters in Westport, CT
Trustworthiness is an important consideration when selecting any home improvement contractor, especially a painter. If you're in the market for a painting contractor in Westport, CT, Shoreline Painting & Drywall, Inc. has been a trusted interior and exterior house painting services provider in Fairfield County for more than 35 years. We're a family-owned and operated company that has achieved a stellar reputation for quality, expertise and integrity and we take pride in the work of every painter we employ.
Exterior Painters Who Do the Job Right
If an exterior house painting job doesn't go well, the results will be on display for the entire neighborhood to see! Luckily, you don't have to worry about that with your Shoreline painter. Our team of experienced painters at Shoreline Painting knows what they're doing. We follow a meticulous process for every project, regardless of scope or size. This ensures consistent results and eliminates embarrassing mistakes. Our painters also take great pride in creating a finished product that meets your specific requirements. Each Shoreline painter approaches every project as if we're painting our own home!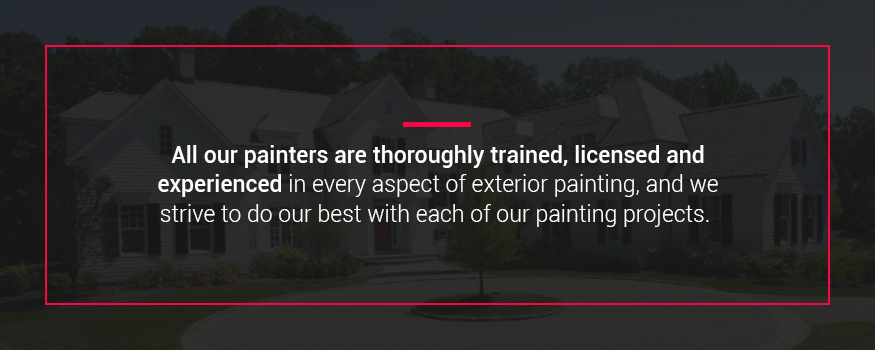 The Inside of Your Home Is Just as Important as the Outside
While fewer people may actually see the inside of your home than the outside, that doesn't mean you should have to live with a dull, deteriorating paint job. Our interior painters can transform the look and feel of your home with eco-friendly paint. We apply the same high level of craftsmanship and close attention to detail when painting the inside of your home as we do on the outside. You'll benefit from a fast, clean and efficient interior painting process with minimal disruptions to your normal lifestyle.
Quality Work From Start to Finish
Our commitment to being the best home painter in Westport, CT is evident from the moment you meet with our team members for your initial consultation. Our knowledgeable staff will take the time to understand your needs and put together several options for getting the job done. We'll be 100% transparent about pricing and timelines throughout the process so there are no unpleasant surprises at any time.
Whether it's a small touch-up or a major repainting, indoors or out, we'll see to it that every job is done to your complete satisfaction.
We're a Trusted Partner to Major Brands
At Shoreline Painting, we recognize that the right materials are essential to getting the job done properly. That's why we've developed longstanding relationships with some of today's leading luxury paint brands. We are proud to be a Fine Paints of Europe Master Certified Painter — a recognition few Westport, CT painters have achieved. In doing so, we have committed to delivering world-class service at a fair price to each of our customers.
Fine Paints of Europe is just one of the many manufacturers we work with to offer options for every homeowner. To learn more, get in touch today.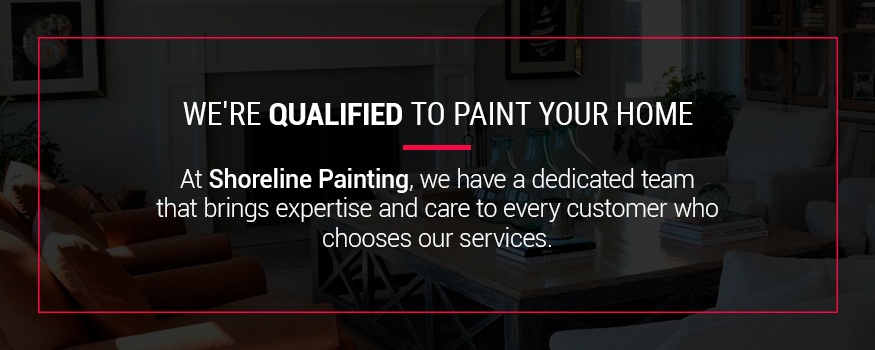 Committed to the Success of Your Westport, CT Painting Project
Some painting contractors fail to properly supervise their crews. Too often, this leads to poor workmanship and unacceptable results, as well as a project that falls behind schedule. At Shoreline Painting, our management team is heavily involved in every aspect of your Westport, CT interior or exterior painting project. A knowledgeable and experienced site manager and general manager are assigned to every project. This means you'll always have access to an accountable individual if you have a question or concern. You can trust your painter to provide a hassle-free, high-quality job that's environmentally friendly.
A trustworthy painting contractor should also have a body of loyal customers. At Shoreline Painting, we're proud of the fact that the majority of our business comes from repeat customers. Contact us for referrals from other satisfied customers in the Westport area, and be sure to check out our customer testimonials.
Get a No-Obligation Painting Estimate Today!
Proudly serving all of Fairfield County, Shoreline Painting is fully bonded, licensed and insured for all exterior and interior painting in Westport and throughout CT. For a free interior or exterior painting estimate for your Westport, CT home, call us at 203-302-1086 or submit our online contact form today!
Home Painting Services in Westport, CT
Professional Expertise from Shoreline Painting
There's no better way to turn heads and boost home value than with a newly painted interior or exterior. If you're looking for professional painting services please contact us today.
Fairfield County Locations: