November 26, 2014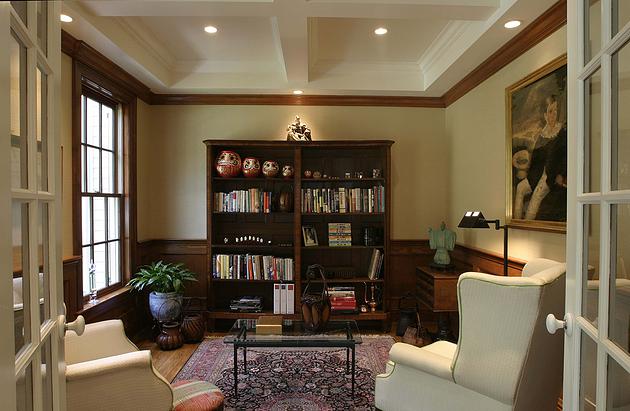 No matter what bright new colors have been used by painters for walls and trim, traditionally, ceilings have remained white. However, some of the latest trends have moved away from using white. Why not incorporate the use of color on the ceiling? It's just as much a part of the room's design as the four walls, windows and floors. Painting contractors have begun moving away from solely white and are using more color on ceilings to create a fresh, unique look.
Try a Monochromatic Design
To dramatically change the look and feel of a room, consider painting the walls and ceiling all one color. This can be a strategic move that makes the room appear smaller or larger depending on the color used. Choose light colors to open up a room and make it feel larger or use darker hues to pull the room in so it feels cozier and more intimate. By using a single color on the walls and ceiling, you'll create a space that feels seamless. Add some contrasting accents or white trim to break it up a little to achieve the perfect visual balance.
Reverse Design
Traditionally, walls were painted the chosen color and ceilings were done in white. The reverse look can also be an effective design technique. Ask your painting company about painting the walls white and the ceiling a specific color instead. This can give a room a fresh, modern look. Well-chosen colors can offer a lot of interest, personality and charm to a room. Warm colors used on the ceiling can be complementary to lighter walls. Professional painters can offer many workable suggestions depending on the size and design of the room.
Mix It Up
The possibilities for a decorative ceiling are endless. You may choose to go with something more complex like splatter-paint or a mural or choose a simple design like bold stripes. Another option is to use a solid, bold color on the ceiling and repeat it with the various accents elements like pillows, lampshades or rugs. The ceiling can also offer a great background for using a variety of design choices, including popular ones like stencils. Higher ceilings can handle many of the bolder colors and designs, even if the room is smaller.
Contact us to discuss bright, new ideas for your ceilings with a professional painting company.
Recent Posts