December 28, 2020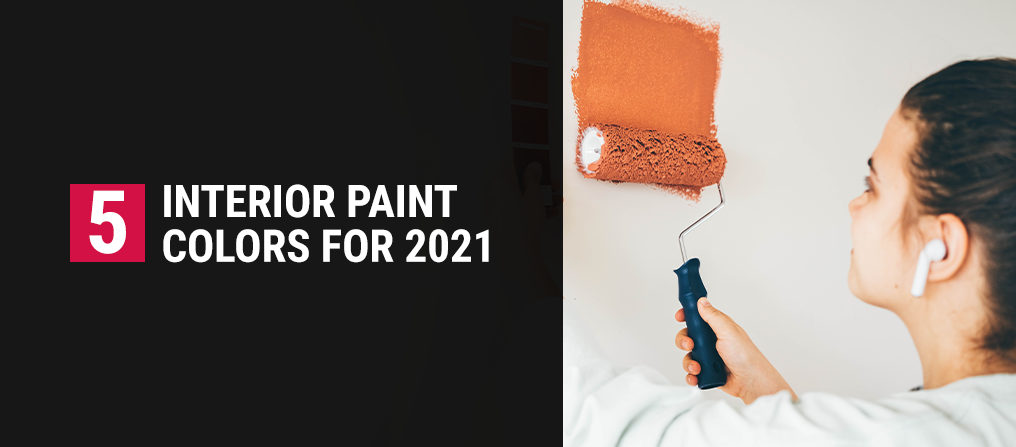 Nothing transforms and re-energizes a room quite like a fresh coat of paint. But with so many different color choices available, it can be hard to know which one to choose, and which colors will be right for your room. You can use color to your advantage to help create a mood or set the scene for an overall color scheme in your room.
Color trends can come and go, and it's fun to choose new colors for your home every once in a while and refresh the look and mood of each room. Let these 2021 interior paint colors and trends inspire you.
Dark Greens
Harness the deeply soothing powers of nature with botanically inspired darker green colors in your home. Dark greens are calming and cozy, giving a sense of security and serenity to any room. Green tones are also known to provide a sense of balance and evoke the therapeutic qualities of nature. Many top design experts put shades of deep green at the top of their lists of trendy paint colors for home interiors the past few years, and we think this trend will stick around for a while.
The dark greens that are popular today go beyond the tired hunter green trend of the '90s. Instead, they offer a variety of rich and inspiring shades of green. From deep, velvety dark avocado and emerald jewel tones to muted gray-green, the dark greens available today offer up plenty of variety. Greens can have either warm or cool undertones, depending on the individual shade, so you can find one that matches your personal color scheme and the mood you want to evoke. Many of these shades of green can stand in for darker neutrals and go with just about anything. Dark green is a bold choice, though, and it may be best to use it in large, well-lit rooms so that the color doesn't overpower the whole room.
New Blues
Shades of blue are always popular interior paint colors, but the newest blue trends look especially fresh this year. Just like greens, blue tones are also calming and evocative of nature, and they can be used in place of other neutrals or as a complement to a neutral palette. Blue is actually the most popular choice in the world for a favorite color, and it can make you feel comforted and optimistic. Just think of relaxing, deep blue waters and sparkling evening skies.
With so many shades of blue to choose from, there's a blue for every palette and personal taste. Deep jewel toned blues, as well as darker navy blues, are very popular right now. These bolder, darker shades are soothing, and they also evoke a sense of opulence, stability and luxury. It's not just the bold, dark shades of blue having a moment, either. Grey-blues are also very popular and are a calming choice for any room. Light misty versions of grey-blue and icy blue are trending for those who want a touch of blue without the overpowering nature of darker colors.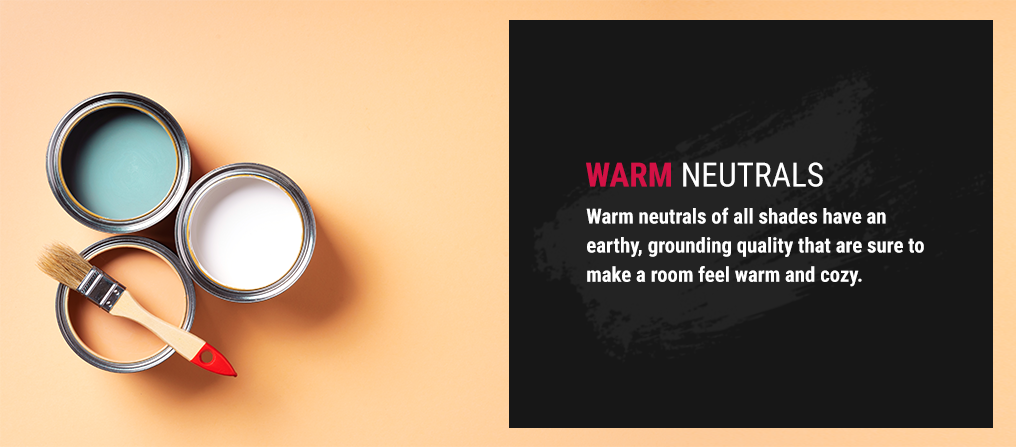 Warm Neutrals
Coziness and warmth are key features of many interior design trends right now, and warm neutrals are definitely in. These inviting shades include everything from warmer whites and creams, to taupes and beiges, to warm hazelnut tones. Warm neutrals go with just about anything, and the lighter shades are great for brightening up a room and bouncing the light around. Warm neutrals are also a great way to brighten your day, and even make a room seem larger than it is.
Warm neutrals of all shades have an earthy, grounding quality that are sure to make a room feel warm and cozy. They match any color scheme, and it's easy to update accent colors with the seasons, or as tastes change. Paints in this color family take their cues from linen, stone, clay, woods, mushrooms, terra cotta, nuts and other sources from nature.
Coral
Many designers include coral on their lists of creative, trendy home colors for today. Inspired by the living corals of the tropical seas, these shades pair especially well with bright green accents and lots of leafy houseplants. Warm pink and orange coral evokes buoyancy and positivity. It's described as life-affirming, animating and nourishing, and this vibrant color will lend its energy to any room where this paint color is used.
This tropically inspired color can be used with lots of different color schemes and works well in kitchens and living rooms, adding vibrancy, fun, and warmth. Related colors that also fit in with this trend include muted oranges and mustard yellows. These bright, warm colors give a fresh look to any room with a bold punch of color.
Yellow and Grey
This color trend is all about the combination of the two, instead of a single color trend. If you want unique interior paint colors that are also trendy, yet comforting and cozy, this is the color combination for you. The combo of yellow and grey has been trending the past few years in everything from exterior house design to fashion, but it's also a great idea for an interior color scheme that's friendly and uplifting.
The main reason that this unique combo works so well lies in the balance the colors provide for each other. Bright yellows are energetic and joyous, simply exuding cheerfulness and fun, but too much yellow can also be a little overwhelming. On the other hand, by itself, grey can be a little bland, and at times, depressing. But when used together, yellow uplifts the grey, while the grey keeps the palette grounded. This sunny combo is a great example of different elements working together, supporting each other.
Use the sunny yellow or muted grey on the walls in a room, and let the other color serve as an accent with furniture, textiles or artwork. You might also go two-tone and use both colors on the walls for a bold yet welcoming look. This is a color combo that looks fresh and trendy but is sure to last for years and not go out of style.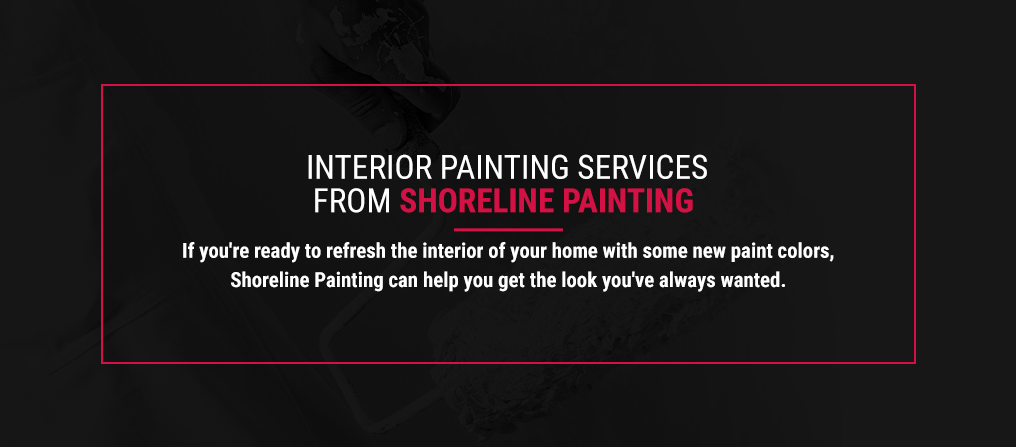 Interior Painting Services From Shoreline Painting
If you're ready to refresh the interior of your home with some new paint colors, Shoreline Painting can help you get the look you've always wanted. No matter which of these trendy interior paint color ideas you want to try in your home, Shoreline Painting can apply it to your room with expertise and professionalism. We are a premier exterior and interior painting company in CT and coastal NY, with more than 35 years in the business. Contact us today for a free estimate for painting your home
Recent Posts